REACH Announces Outreach & Enrollment Grants
---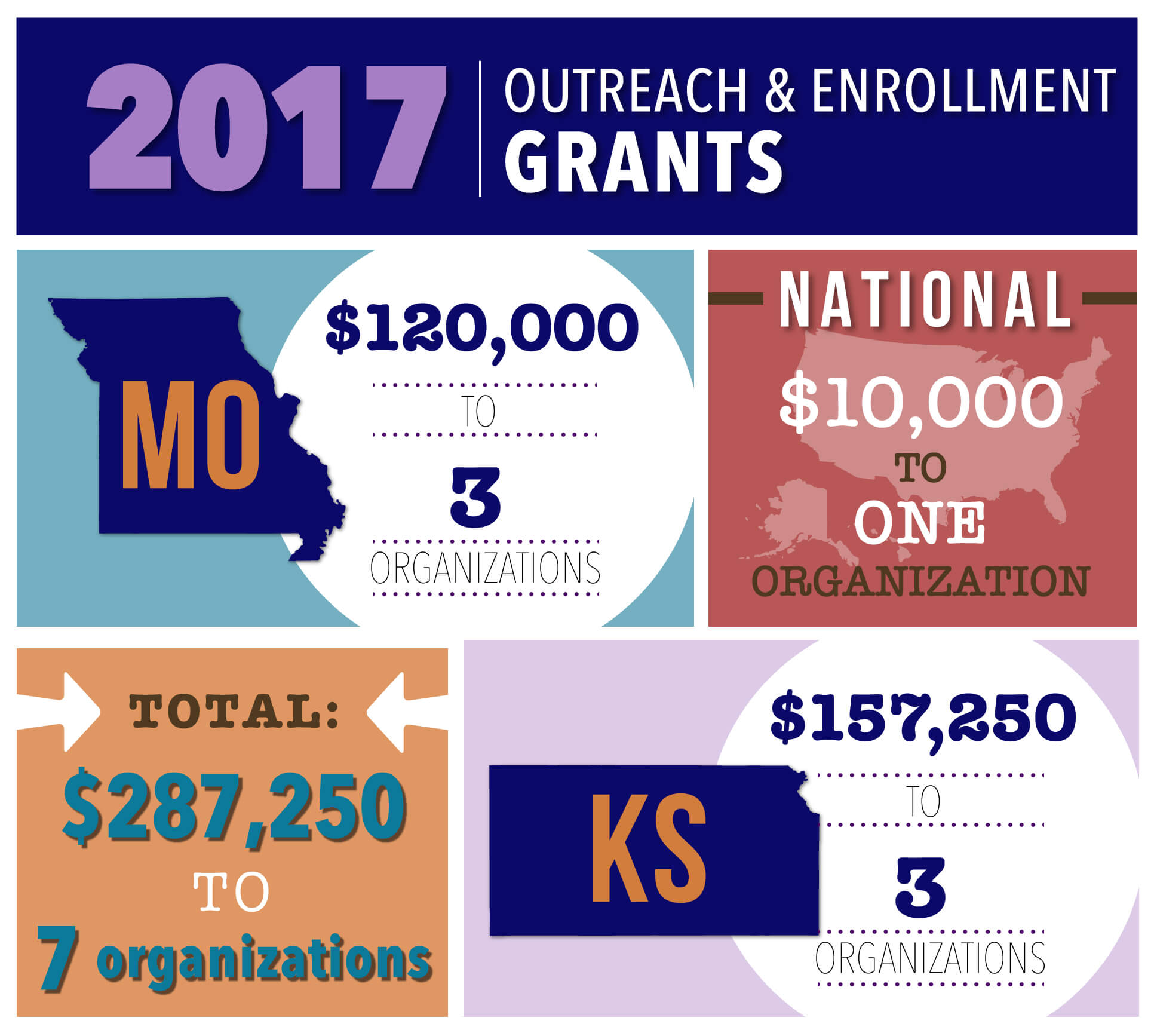 The REACH Healthcare Foundation has awarded $287,250 to seven nonprofit organizations to provide targeted outreach and enrollment assistance during the upcoming open enrollment period. The grants will support six regional organizations and one national organization to ensure consumers have the information they need to make a health plan selection during the enrollment period, which begins November 1.
REACH has awarded a total of $939,650 to support outreach and enrollment activities since 2016.
Grants were awarded based on the organization's previous success with outreach and enrollment, their expertise in reaching underserved populations within the foundation's six-county service area, and their capacity to collaborate with other agencies to extend their reach. The grant recipients include:
| | |
| --- | --- |
| KANSAS | |
| Community Health Council of Wyandotte County | $117,250 |
| Johnson County Department of Health and Environment | $20,000 |
| | $20,000 |
| MISSOURI | |
| Live Well Clinics/Health Care Coalition of Lafayette County | $20,000 |
| Samuel U. Rodgers Health Center | $50,000 |
| | $50,000 |
The foundation awarded $10,000 to Young Invincibles, a national research and advocacy organization that seeks to engage young adults in policy issues that affect their economic well-being, to provide REACH partners access to the organization's Connector tool, a data tool to schedule appointments, coordinate outreach and follow-up, and track enrollment results.
Health navigators are working with several changes in the enrollment process this year. The federal government reduced the open enrollment period to six weeks from the three months during previous periods. In addition, there were changes in assister certification training and availability of the healthcare.gov site, as well as consumer confusion about availability of health plans and financial assistance. To maximize enrollment success, the Community Health Council of Wyandotte County (CHC) has established the Kansas Assisters Network (KAN), a Johnson and Wyandotte county coalition of more than a dozen clinics, hospitals, public health departments and school districts, to provide assister training, promote enrollment, direct people to enrollment sites and collaborate on enrollment activities.
Molly Moffett, CHC program manager, said KAN offers a vehicle for "pulling together a lot of partners quickly to make sure our consumers understand the health insurance marketplace is in operation, financial support is still available, and that we can provide in-person help for those who need it."
Thrive Allen County will have six certified health navigators working this enrollment period. Lisse Regehr, Thrive's director of outreach and advocacy, said the addition of four navigators this year will provide coverage on evenings and weekends. Regehr said there will be an additional emphasis on reaching consumers beyond Iola, including LaHarpe, Elsmore, Moran and Savonburg. Regehr said the goal is to position navigators where consumers live.
The REACH outreach and enrollment grants align with a key foundation focus on enrolling all eligible people in the health insurance marketplace or existing publicly funded programs. REACH has awarded a total of $939,650 to support outreach and enrollment activities since 2016.