Theory of Change
In 2016, the REACH Foundation began implementation of a five-year strategic plan with a revised Theory of Change that built on the foundation's longstanding interest in health care coverage, access and quality.
---
The foundation's updated strategic plan provides a sharper focus on improving the health of uninsured and medically underserved populations by emphasizing equity in health coverage and care. Our target population continues to be the uninsured in the foundation's six-county service area, with additional attention directed to highly vulnerable populations, including undocumented immigrant and refugee populations; homeless persons; and youth transitioning out of foster care.
Within the revised Theory of Change, each of the three defined outcome areas is linked to a set of strategies with defined targets, benchmarks and populations that describe how the foundation seeks to improve health care and health outcomes for uninsured and medically underserved individuals in our service area. The outcome areas and eight identified strategies frame the long-term impact we seek.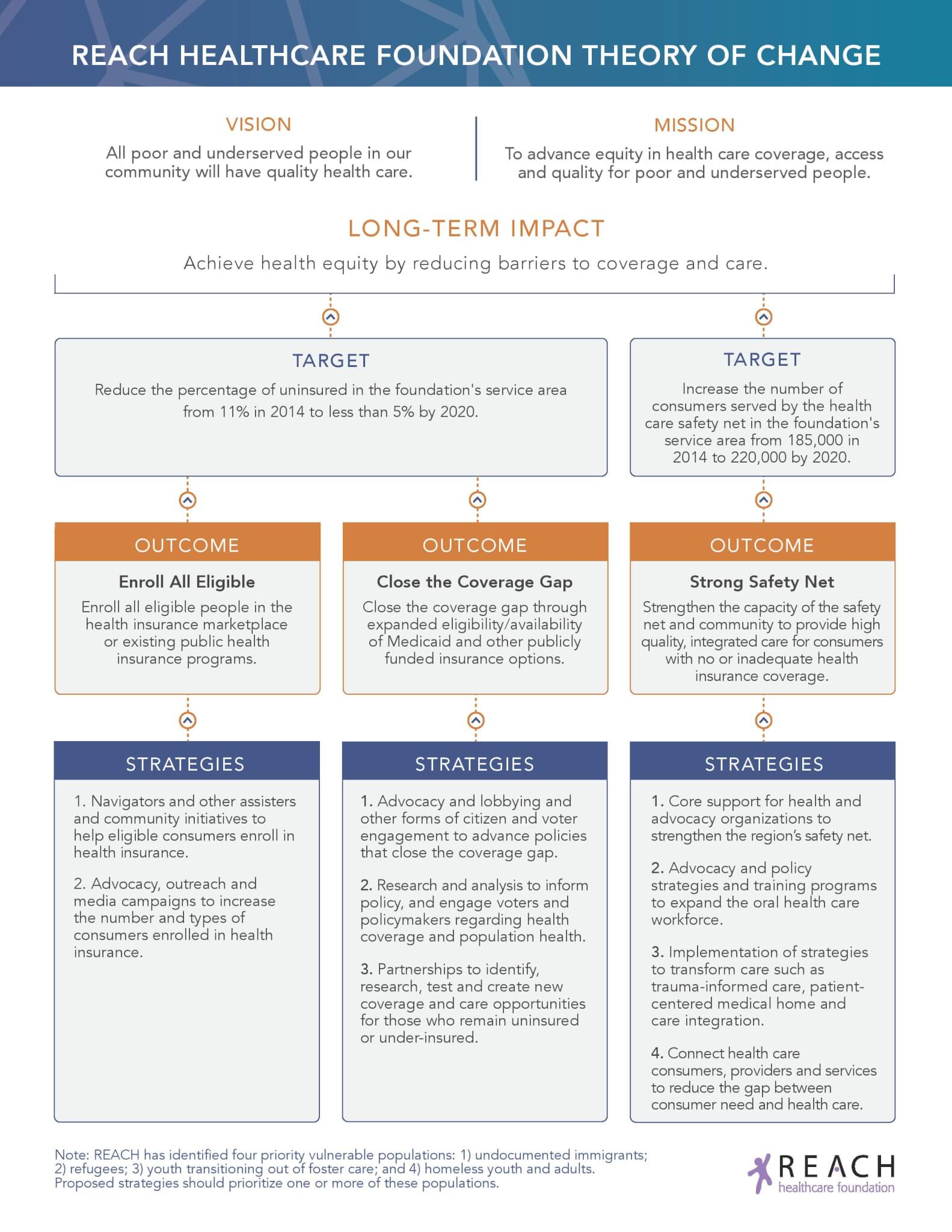 View the Theory of Change (PDF)
---
Targets
The foundation has identified two strategic targets.
Reduce the percentage of uninsured in the foundation's service area from 11% in 2014 to less than 5% by 2020

Increase the number of consumers served by the health care safety net in the foundation's service area from 185,000 in 2014 to 220,000 by 2020
---
Outcome Areas
Grant making, capacity building, advocacy and other foundation efforts will support three outcome areas:
Enroll all eligible people in health coverage

Close the health coverage gap in Kansas and Missouri

Strengthen the safety net to serve those who remain uninsured and underserved
---
Strategies
The nine strategies encompassed in our three outcome areas present fresh opportunities for high-performing partners and enable us to identify and engage new partners as we work to address equity in health coverage and care. Each strategy details a strategic focus, target population, barriers we seek to address, background and rationale, and preliminary indicators of effectiveness. We approach this strategic plan and new theory of change as a mechanism for holding ourselves and our partners more accountable to impacting the rate of uninsurance and level of access to high-quality, coordinated and affordable health care.
Enroll All Eligible
Close the Coverage Gap
Strong Safety Net
---
Funding and Eligibility Requirements
With adoption of a new five-year strategic plan, the foundation has made adjustments in its strategies and grant making procedures to align with the revised theory of change. For information on funding and eligibility requirements, review the Eligibility Criteria and contact a member of the program staff.