News / Press Releases & Announcements
You are viewing news in the 'Press Releases & Announcements' Category
---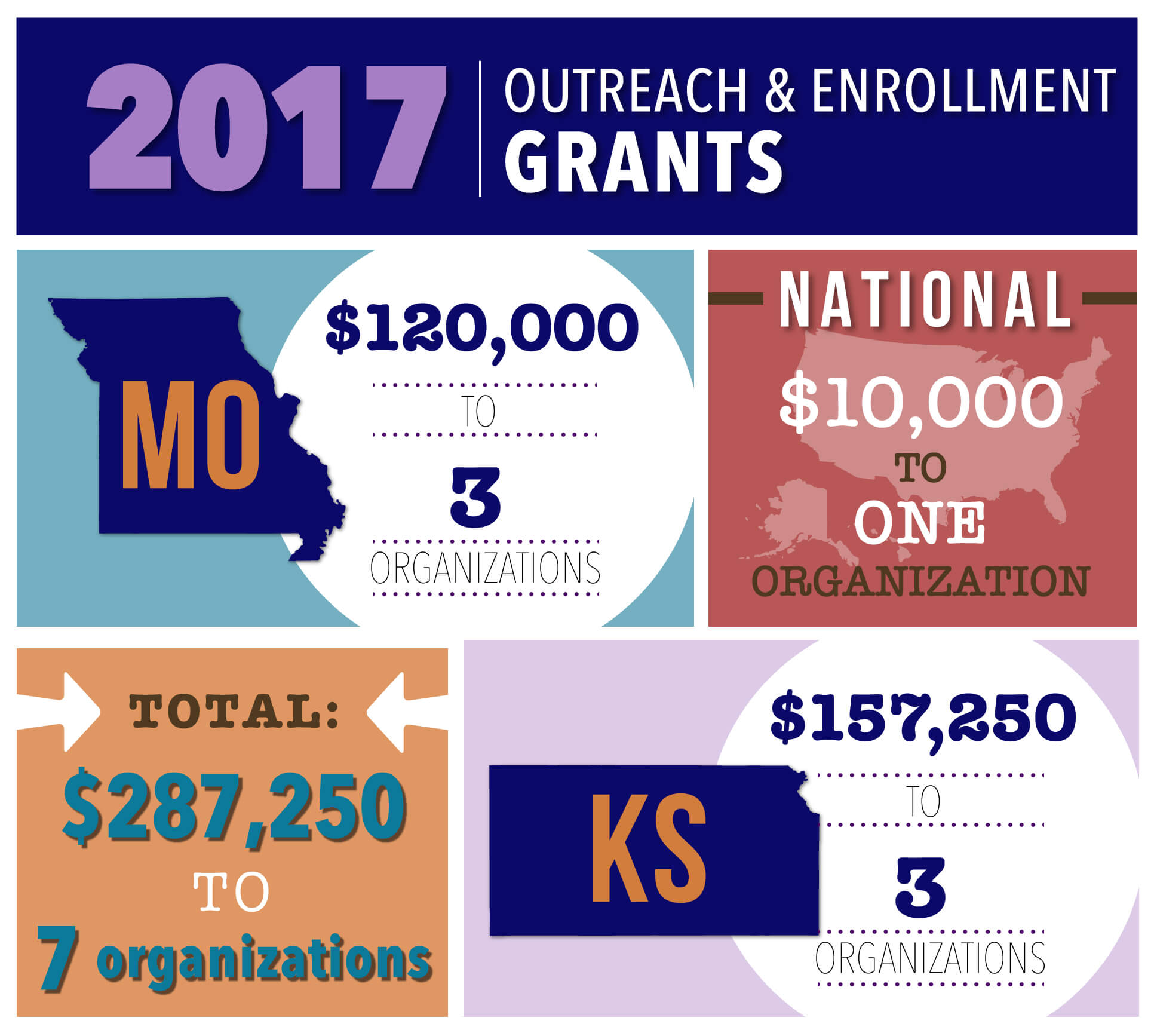 The REACH Healthcare Foundation has awarded $287,250 to seven nonprofit organizations to provide targeted outreach and enrollment assistance during the upcoming open enrollment period. The grants will support six regional organizations and one national organization to ensure consumers have the information they need to make a health plan selection during the enrollment period, which begins November 1.
REACH has awarded a total of $939,650 to support outreach and enrollment activities since 2016.
Grants were awarded based on the organization's previous success with outreach and enrollment, their expertise in reaching underserved populations within the foundation's six-county service area, and their capacity to collaborate with other agencies to extend their reach. The grant recipients include:
| | |
| --- | --- |
| KANSAS | |
| Community Health Council of Wyandotte County | $117,250 |
| Johnson County Department of Health and Environment | $20,000 |
| | $20,000 |
| MISSOURI | |
| Live Well Clinics/Health Care Coalition of Lafayette County | $20,000 |
| Samuel U. Rodgers Health Center | $50,000 |
| | $50,000 |
The foundation awarded $10,000 to Young Invincibles, a national research and advocacy organization that seeks to engage young adults in policy issues that affect their economic well-being, to provide REACH partners access to the organization's Connector tool, a data tool to schedule appointments, coordinate outreach and follow-up, and track enrollment results.
Health navigators are working with several changes in the enrollment process this year. The federal government reduced the open enrollment period to six weeks from the three months during previous periods. In addition, there were changes in assister certification training and availability of the healthcare.gov site, as well as consumer confusion about availability of health plans and financial assistance. To maximize enrollment success, the Community Health Council of Wyandotte County (CHC) has established the Kansas Assisters Network (KAN), a Johnson and Wyandotte county coalition of more than a dozen clinics, hospitals, public health departments and school districts, to provide assister training, promote enrollment, direct people to enrollment sites and collaborate on enrollment activities.
Molly Moffett, CHC program manager, said KAN offers a vehicle for "pulling together a lot of partners quickly to make sure our consumers understand the health insurance marketplace is in operation, financial support is still available, and that we can provide in-person help for those who need it."
Thrive Allen County will have six certified health navigators working this enrollment period. Lisse Regehr, Thrive's director of outreach and advocacy, said the addition of four navigators this year will provide coverage on evenings and weekends. Regehr said there will be an additional emphasis on reaching consumers beyond Iola, including LaHarpe, Elsmore, Moran and Savonburg. Regehr said the goal is to position navigators where consumers live.
The REACH outreach and enrollment grants align with a key foundation focus on enrolling all eligible people in the health insurance marketplace or existing publicly funded programs. REACH has awarded a total of $939,650 to support outreach and enrollment activities since 2016.
---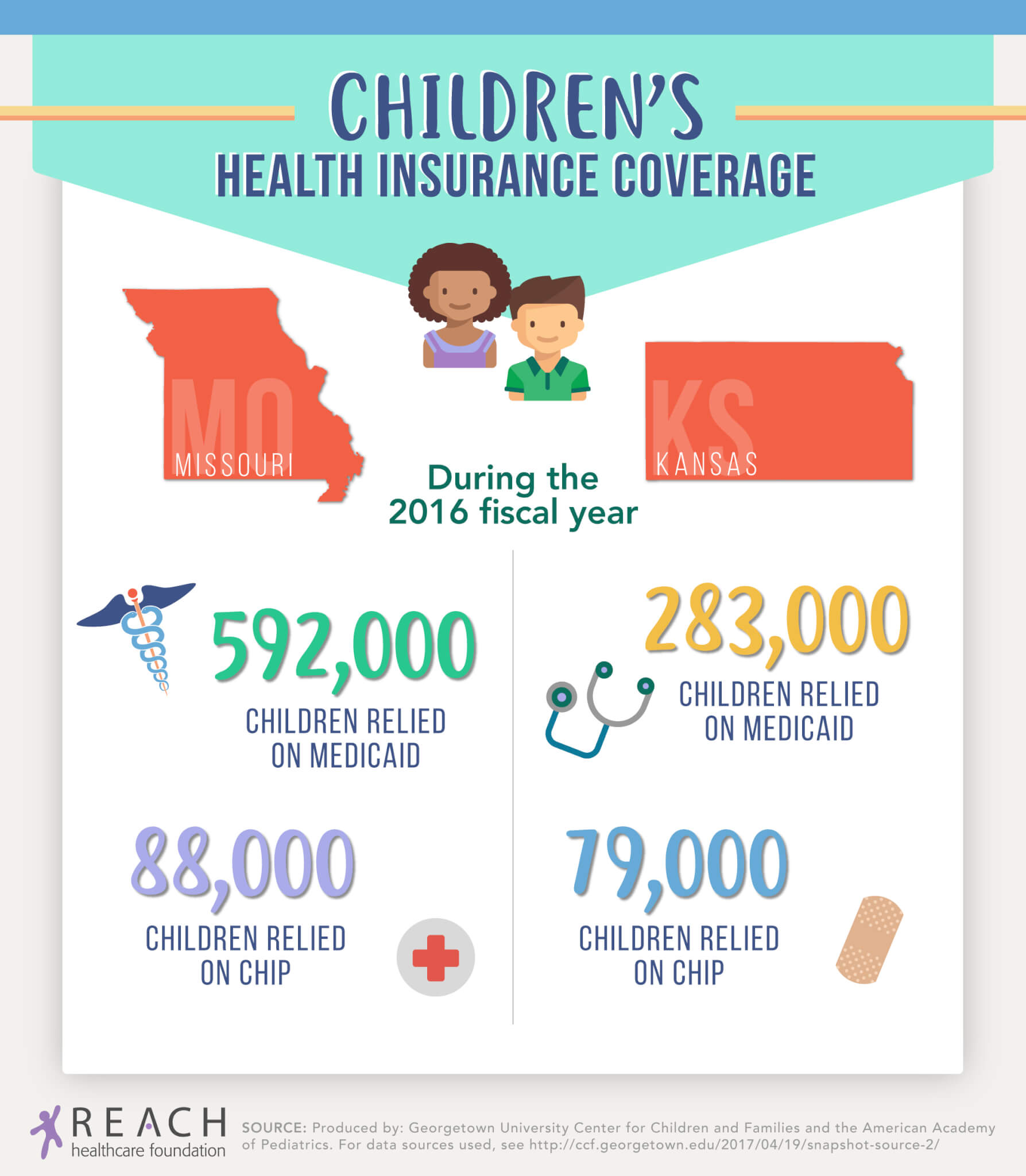 Health providers and advocates have been maintaining a steady public call to Congress to extend federal funding for the Children's Health Insurance Program (CHIP), which is set to end on September 30, 2017, unless Congress acts to renew financial support – ideally for another five years.
CHIP is a federally funded and state-administered block grant, and an important counterpart to Medicaid. Medicaid and CHIP cover approximately 39 percent of the nation's children. Medicaid covers more than 37 million and CHIP serves 8.9 million. These programs have produced significant improvement in children's coverage status – reducing the children's uninsured rate to a record low of 5 percent. Together, they provide a broad set of benefits, including regular medical, vision, hearing and dental screenings as well as physical, occupational, and speech and language therapies for children with special needs.
Failure to renew would place children's coverage at risk and add to financial pressure on states. Some states operate CHIP within their Medicaid programs; others, including Kansas, maintain separate programs. Children in separate CHIP programs could shift to their parents' employer-sponsored plans or marketplace plans, but others would become uninsured. The result could be a reversal of coverage gains achieved over the years, potentially causing 1.1 million children to become uninsured.
This situation would likely force states to alter their programs to contain costs. Nearly all 50 states, including Kansas and Missouri, planned for continued federal funding in their 2018 fiscal year budgets. While states can continue to spend their unused funds until they run out, at least 10 expect to expend their funding in 2017; 32 states (including Kansas and Missouri) project they will run out of funding by the end of March 2018.
Given the proven health benefits of CHIP, a renewal decision should not wait until September 30. As Congress deliberates on a variety of health proposals, it is time to place this smart investment at the top of their list. LEARN MORE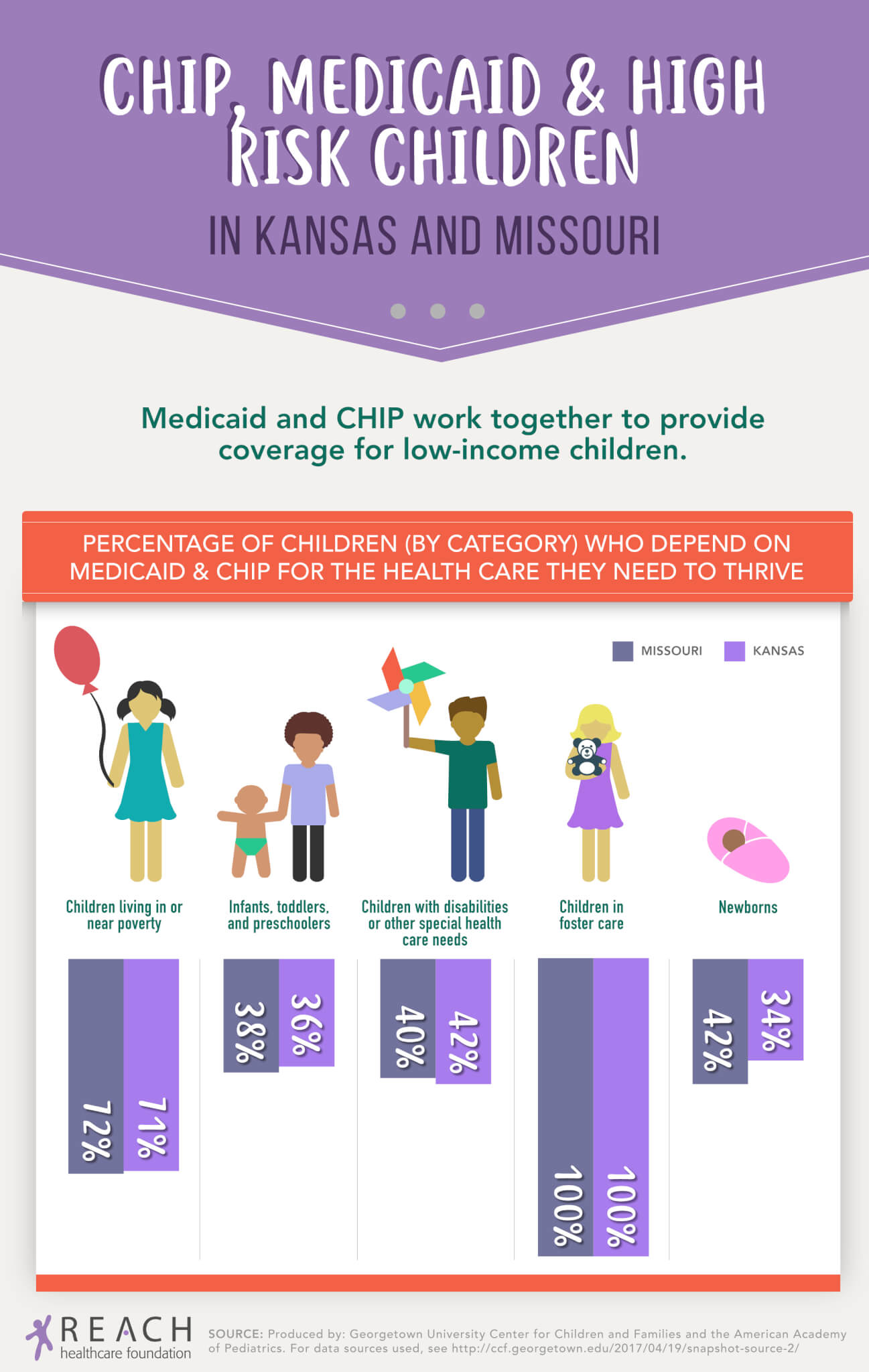 ---
---
MERRIAM, KS – The REACH Foundation is joining with two funding partners to host an informational session on Wednesday, August 9, to discuss an open RFP for a new three-year project centered on increasing voter and civic engagement in democratic processes. The REACH Foundation is partnering with the Kansas Health Foundation (KHF) and the Health Care Foundation of Greater Kansas City (HCF) on a three-year initiative that will support nonprofit organizations to build ongoing, year-round voter registration, education and mobilization efforts into their health equity issue work, and to reach out to populations that are typically underrepresented in election processes and other aspects of democracy. The foundations will invest in up to 10 organizations in Kansas and the three counties in Missouri that are part of the REACH and HCF service area to incorporate integrated voter engagement (IVE) strategies and activities into their work with underserved populations. The goal is to increase voter registration and turnout in local, state and national elections, and encourage greater civic engagement between election cycles.
Organizations may apply for up to $75,000 annually for a total of $225,000 over three years. Organizations interested in developing a non-partisan IVE program can review the RFP and application requirements at http://kansashealth.org/grant-opportunities/IVE/. The site includes details on the RFP along with a pre-recorded informational webinar and links to required attachments. The deadline to apply is 5 p.m. Thursday, September 7, 2017. 
The REACH Foundation has committed $300,000, including resources for technical assistance and evaluation, within the foundation's "Close the Coverage Gap" outcome investment area, which encompasses strategies aimed at increasing citizen and voter education and engagement on issues that affect health coverage and care.
The funders will present the initiative and the application process at three informational meetings. The REACH Foundation will host a meeting on Wednesday, August 9, 2017, at our offices at 6700 Antioch Road, 2nd Floor Large Conference Room, Merriam, KS. Individuals interested in attending are asked to RSVP to Dian Ringer, KHF program assistant, at dringer@khf.org. Two other sessions will be held Monday, August 7, in Garden City, KS; and Friday, August 11, in Wichita. Attendance at an informational session is encouraged but not required for application.
Integrated voter engagement is gaining increasing attention because of disparities among those who register to vote and turn out for elections, and lack of engagement in our governmental processes. Research has shown that non-partisan IVE is an effective way of increasing voter turnout, particularly among racial, ethnic and other demographic groups – such as young adults – that are less likely to register and/or participate in elections and civic activities. IVE differs from typical "get out the vote" activities by connecting voters to ongoing advocacy and organizing efforts on issues that shape public policy. In supporting this initiative, our aim at REACH is to engage community groups that often don't have access to decision leaders so that their concerns and issues are heard and considered by policy makers.
"This initiative represents an exciting opportunity to ensure our region's diverse community members are equipped to influence discussions and decision-making about governmental actions that affect their health and community well-being," said Brenda Sharpe, REACH President and CEO. "In looking at voting trends in Kansas over the past few years, we can see large differences in participation among racial and ethnic minorities, and people with low incomes. Without a voice in policy decisions, these individuals experience even greater hurdles in getting their concerns in front of leaders who make policy and resource decisions that affect their lives."
Learn more about the initiative and RFP:
http://kansashealth.org/grant-opportunities/ive/
Review PowerPoint Slides: Integrated Voter Engagement presentation 8.09.17
---
---
The REACH Foundation invites representatives from nonprofit organizations, governmental entities and others involved in immigrant and migrant worker health and social services to join us for a Summer Series on Immigrant Health. All programs are free and open to interested community members.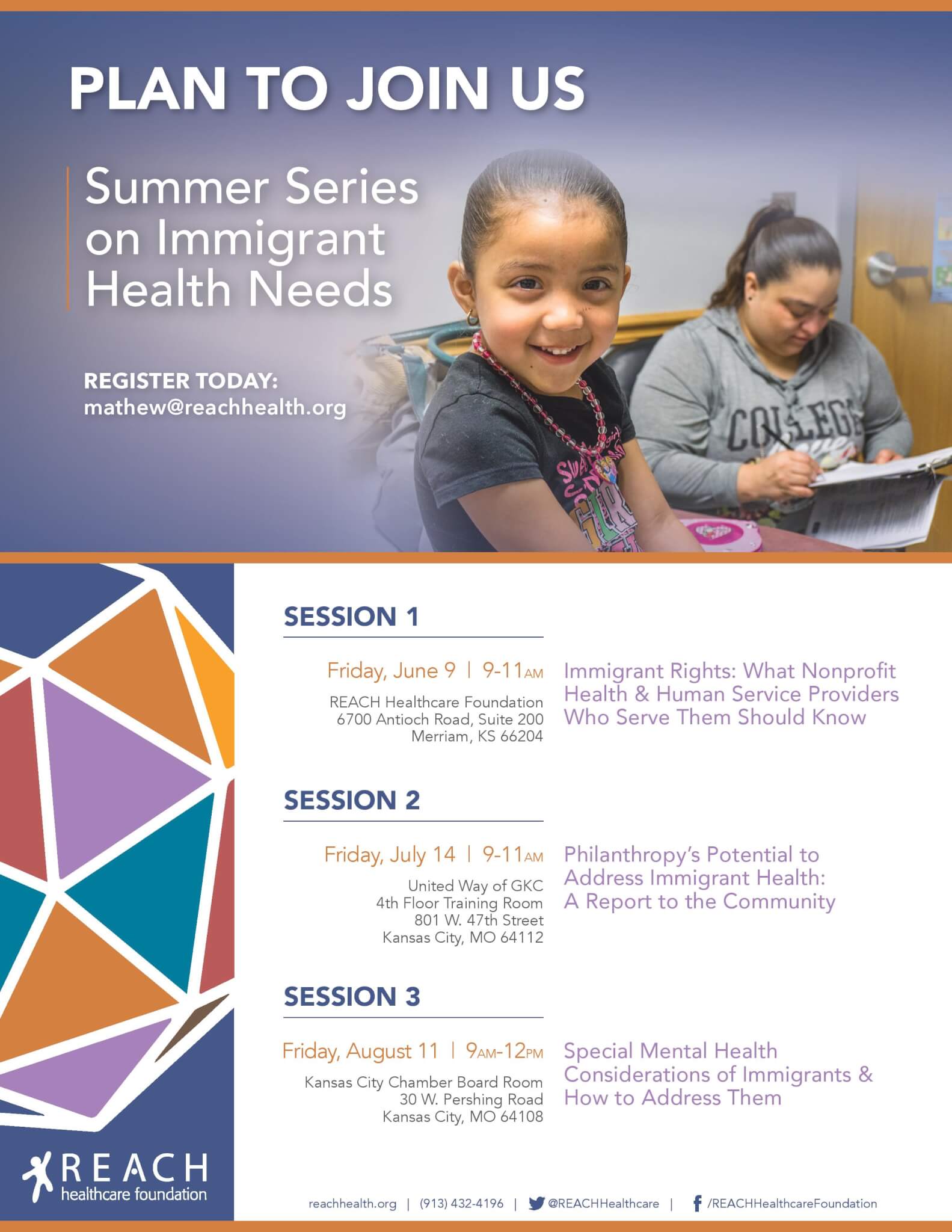 ---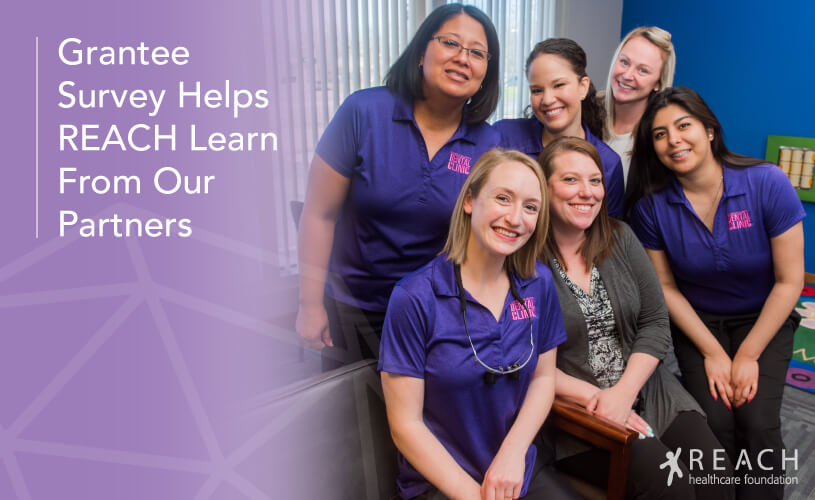 Transparency in the REACH Foundation's grant making and operations has always been held as a core tenant of our work by the foundation's Board of Directors and staff.
As part of our grant relationship, REACH staff encourages our nonprofit partners to be transparent with us about major changes and challenges in their organizations so that we can learn from their experiences and provide guidance or additional resources, as needed. This kind of sharing can only work if we are open, too, and seek out honest feedback from partners and peers so that we can do better in communicating the foundation's goals and priorities, building relationships and promoting shared learning.
One basic but valuable method for understanding how we are doing as an organization is to survey current and former grantees and other partners. In 2016, we contracted with the Center for Effective Philanthropy (CEP), a national organization that helps foundations understand and strengthen their performance, to implement a survey to measure our grantees' understanding of the foundation's strategic priorities, assess the quality of staff relationships with grantees, and describe the impact the foundation has on grantee communities and their field.
The CEP survey was sent to grantees from 2015 and 2016 – a list that included all core operating partners, and program, capacity-building and other discretionary grant recipients. The survey measured grantee perceptions in six areas – foundation impact, relationships, grant making processes, transparency, knowledge and understanding, and contributions to nonprofit sustainability. CEP received responses from 58 grantees, for a 68 percent response rate. Their responses were compiled into a report that provided important information and provided us with insights into areas for improvement.
Some of our take-aways included:
The adoption of a new strategic plan in 2015 – with a new theory of change and associated outcomes and strategies – created some uncertainty among different groups of grantees. For example, program grant recipients were less likely to have a positive view of the foundation, which may have been related to the foundation's decision to end grants for programs in 2016. Organizations that received funding through REACH's outcome investments tied to our new five-year strategic plan and/or our expansion of core operating grants perceived the foundation in more positive terms than program grantees. It raised the question for us:  Were their higher ratings due to continuation of funding or to the quality of the relationship?
The CEP survey highlighted differences in staff relationships with various grantees. For example, core partners – those that receive general operating support – have typically had longer relationships with the foundation's program staff. In contrast, some discretionary grant recipients receive one-time or only occasional support. The CEP survey results showed that these organizations perceived the foundation less positively than grantees with which we have worked over time.
The open-ended responses to questions about how grantees perceived REACH were generally positive. For example, when asked how grantees would describe interactions with the foundation, 90 percent rated the foundation as good, very good or excellent in responsiveness to grantee and community needs; 10 percent perceived REACH to be inflexible, challenging or difficult to work with. Nearly 95 percent of grantees noted that the foundation has had a positive influence on access to care in their community.
Although one key area of investment for REACH is public policy and advocacy, 25 percent of the survey respondents indicated they were unable to judge the impact of REACH's investments on public policy within their fields. Given the foundation's increased investments and activities in health policy and advocacy, this response suggests we need to be more proactive in sharing the foundation's policy priorities and discussing the progress or impact our investments have had on policy in Kansas and Missouri.
Other findings included:
91 percent of respondents said that the foundation's responsiveness and was "good, very good or excellent," and that our communications with them and the community were consistent. More than 80 percent responded that our transparency is "good, very good or excellent."
Approximately three-quarters of respondents indicated that REACH has helped advance knowledge in their fields, and has had a positive impact on their organizations and their sustainability.
Nearly 90 percent believed that REACH has a good, very good or excellent understanding of their field and of the communities in our service area.
Three-quarters believe REACH has had a positive impact on their organization, report that the foundation has at least a good understanding of their goals and strategies, feel they have been treated fairly in the grant selection process, and agreed that the selection process is transparent. A similar percent agreed that once funded, they feel comfortable approaching REACH staff when or if a problem arises during the grant term.
Finally, more than 80 percent consider REACH's work in health equity important and have seen a positive influence of our work on access to care.
These results offered a gratifying confirmation of the contribution the REACH Foundation strives to make in our community, but we recognize there are areas in which we can improve. The CEP survey is one tool we can use to identify ways to strengthen our work. Some of these include:
Approximately 30 percent of respondents indicated they would like REACH to have a better understanding of their organizational challenges; about 20 percent would encourage the foundation to better understand the contextual factors affecting their organization.
32 percent believe REACH should be more open to grantees' ideas regarding our funding strategies – suggesting that foundation staff could do better at listening to grantees.
37 percent believe REACH could be more transparent about what has not worked in our previous investments – in other words, to share learnings from our mistakes as well as successes.
Approximately half of our grantees would like help understanding how the foundation evaluates its work and investments.
The survey findings were shared with the REACH Board and its Program and Policy Committee, and staff has set aside time within team meetings to reflect on our procedures, communications and relationships. We have made adjustments in how we communicate as a start:
In learning that grantees would like the foundation to have a better understanding of their organizational challenges, REACH program staff have begun additional check-in phone calls this year with core partners to learn more about the internal and external issues they are confronting.
To improve understanding of the foundation's work in public policy, REACH program officers are discussing these priorities more widely with current and potential partners. In addition, we are using our established communications tools – web site and social media feeds – to reinforce our policy interests and highlight the activities of grantees.
To clarify the foundation's approach to evaluation, program staff is sharing the foundation's theory of change and highlighting selected performance targets and other metrics that are part of our outcomes investment approach. During this year, we expect to expand information on the web site to more fully describe how REACH evaluates its community investments.
Since our start in 2003, the Board of Directors and staff have embraced a belief that the foundation's ability to achieve its vision and mission is tied to the efforts, effectiveness and ingenuity of strong nonprofit partners. As we pursue our own continuous improvement journey, we welcome your suggestions for how we can cultivate transparency, learning and dialogue.
We invite you to reach out to any member of the REACH team with your questions and ideas.
Brenda R. Sharpe, President & CEO
---
On March 30, 2017, Governor Brownback released a statement to accompany his veto of House Bill 2044 to expand KanCare, which would extend affordable health coverage to more than 150,000 hardworking Kansans. Unfortunately, the message contains several false narratives that opponents of Medicaid expansion have used for years, in Kansas and other states. What follows is a point-by-point response to the administration's key arguments.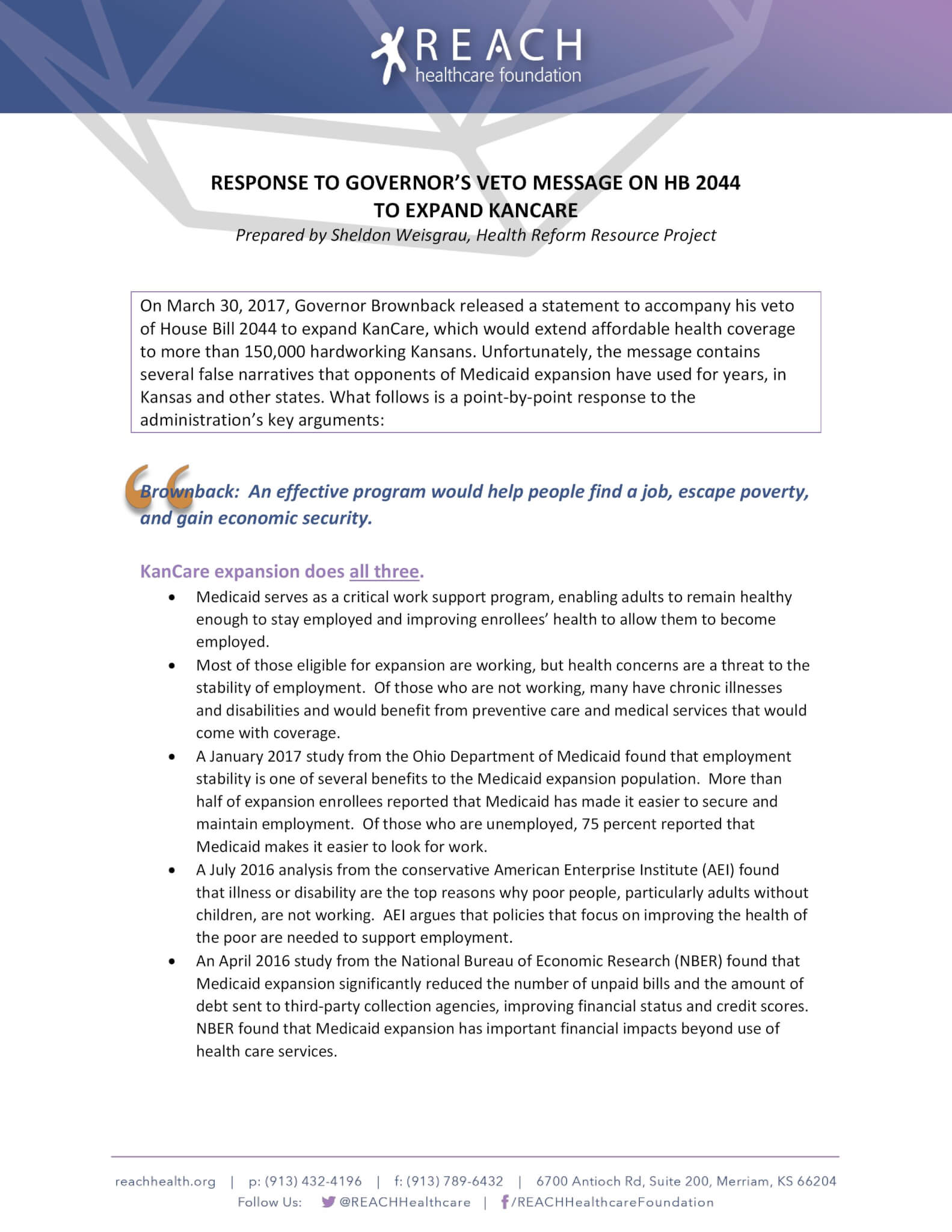 ---
News Release
The REACH Healthcare Foundation Board of Directors, a 17-member board that provides governance and oversight to the health philanthropy, elected six members at its March 23 meeting. Elected members include individuals within the fields of health policy and law, insurance, finance, education and medicine. The Board elected three incumbents for a second term. The following individuals will begin their board member terms on June 1: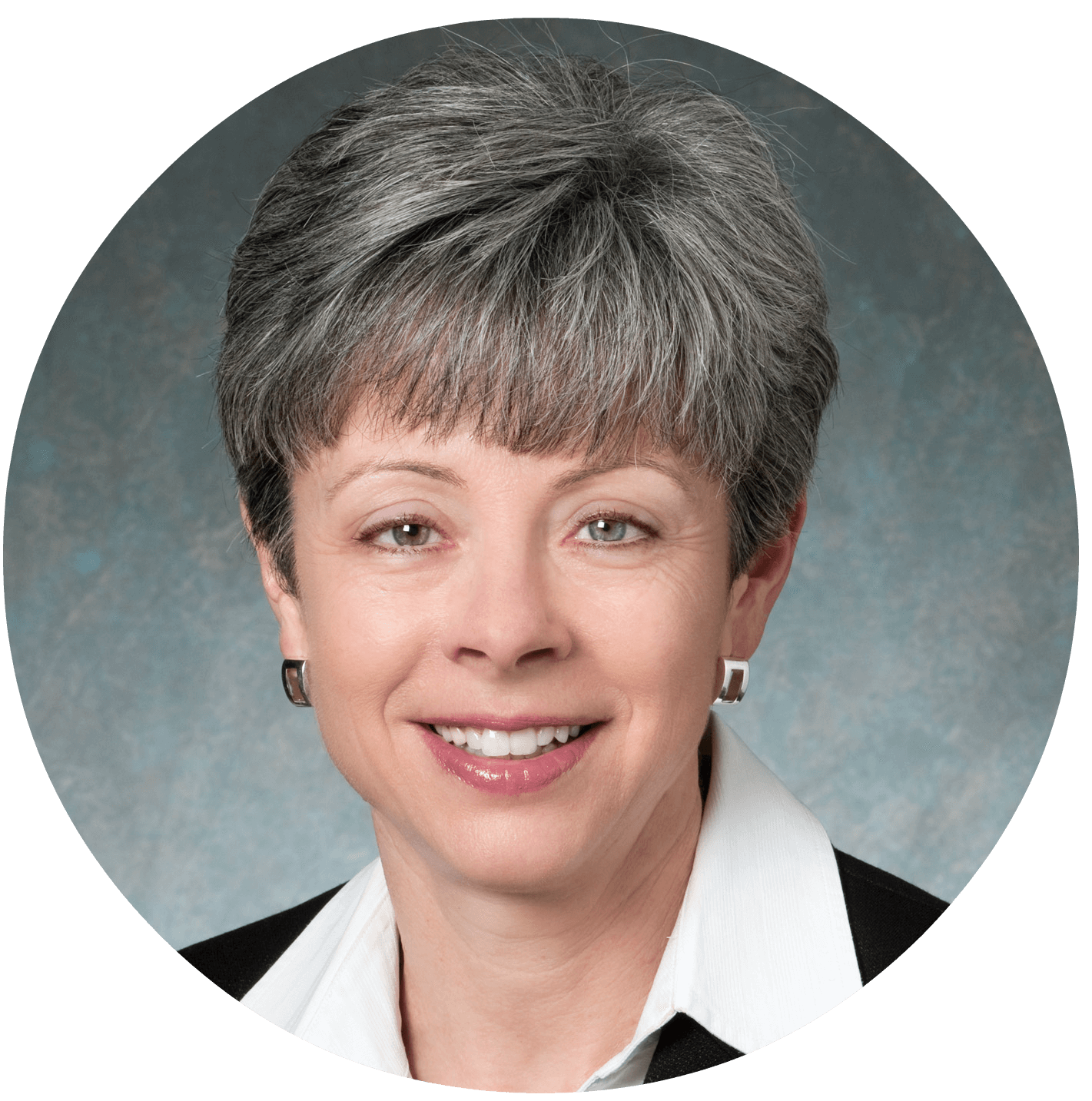 Laura Bond
Bond is an attorney with Spencer Fane LLP in Overland Park, KS. She spent much of her 25-plus year career providing legal services to health care providers and managed care entities, including hospitals, physicians and safety net providers. Bond earned a law degree from the University of Kansas and a Bachelor's degree from Northwest Missouri State University. She previously was a consulting principal for Pershing Yoakley & Associates, consulting on legal issues pertaining to health reform and worked as an attorney at Lathrop & Gage LLP. Bond served on the boards of the Health Partnership Clinic and Olathe Medical Center. Bond is an incumbent REACH Board member and lives in Johnson County.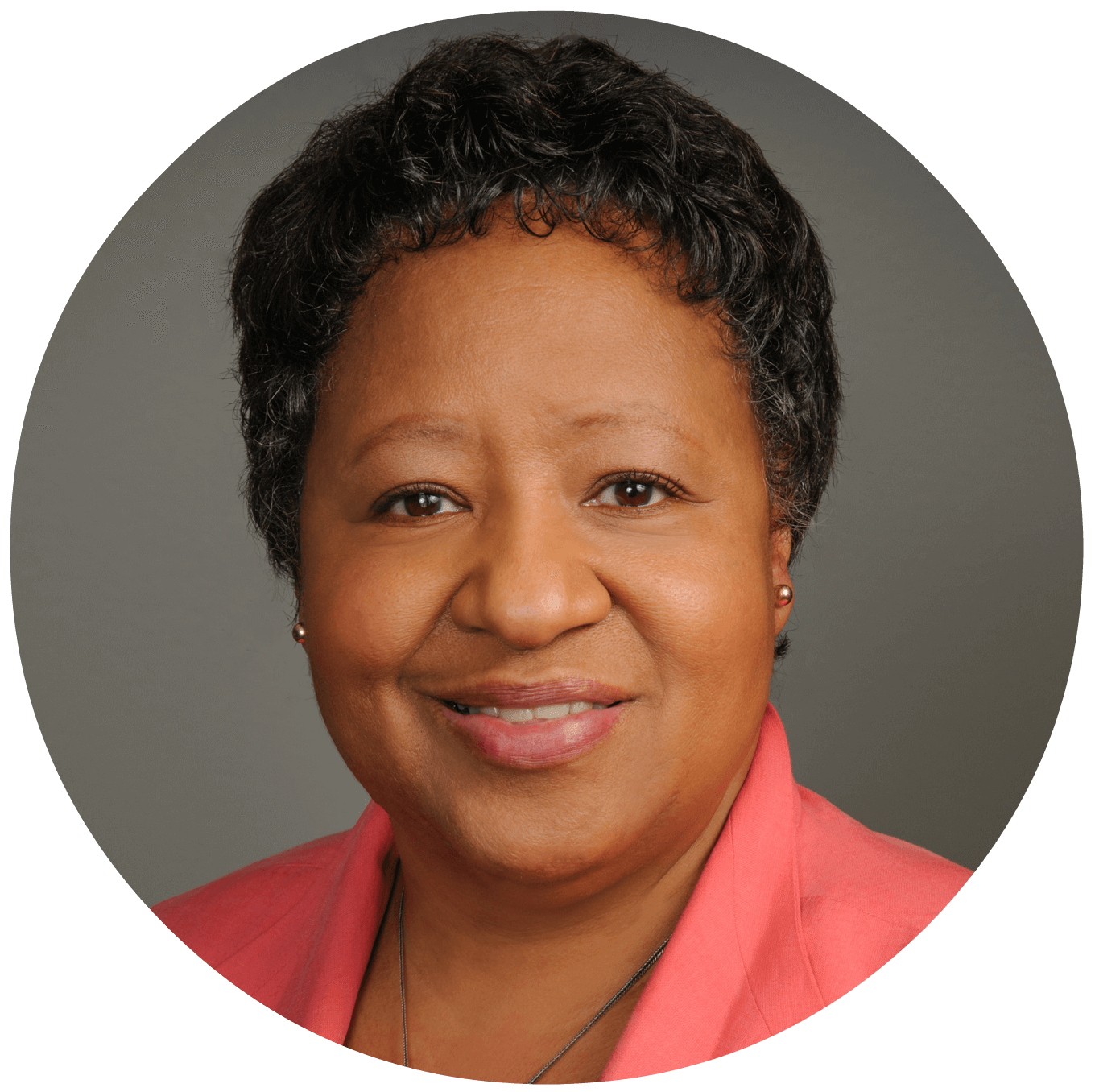 Linda Hall
Hall brings a 30-plus year career as an educator working in early childhood and elementary school settings in Wyandotte County, Kansas. Hall worked as an education specialist for the Economic Opportunity Foundation's Head Start program, and as a K-3 reading coach, trainer and grants evaluator for a Reading First federal grant to USD 500 in Kansas City, Kansas. She retired from USD 500 in 2010 but continues to volunteer as a reading intervention consultant. Hall earned a Bachelor of Science degree at Oklahoma State University and Master of Arts in Teaching at Webster University. Hall is an incumbent REACH Board member and lives in Wyandotte County.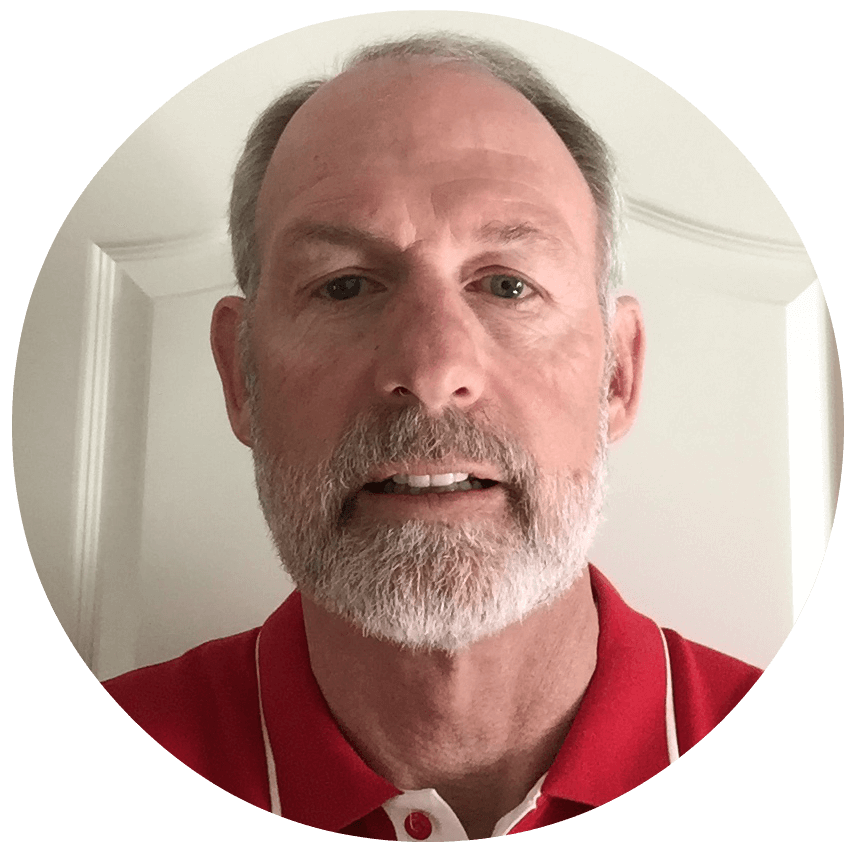 Thomas Handley
Thomas Handley has more than 40 years of senior actuarial and management experience in group insurance and healthcare, including rate development, actuarial evaluation, benefit design and pricing, and underwriting. He previously worked as Vice President and Chief Actuary at Blue Cross Blue Shield Kansas City, and subsequently was a principal at The Miller Group and later at DeFrain Mayer. Handley serves on the board of GHI, Inc. and Surety Life Insurance Co., including as chair of the Audit and Investment Committee of Surety. He received a bachelor's degree in mathematics from the University of Kansas and lives in Johnson County.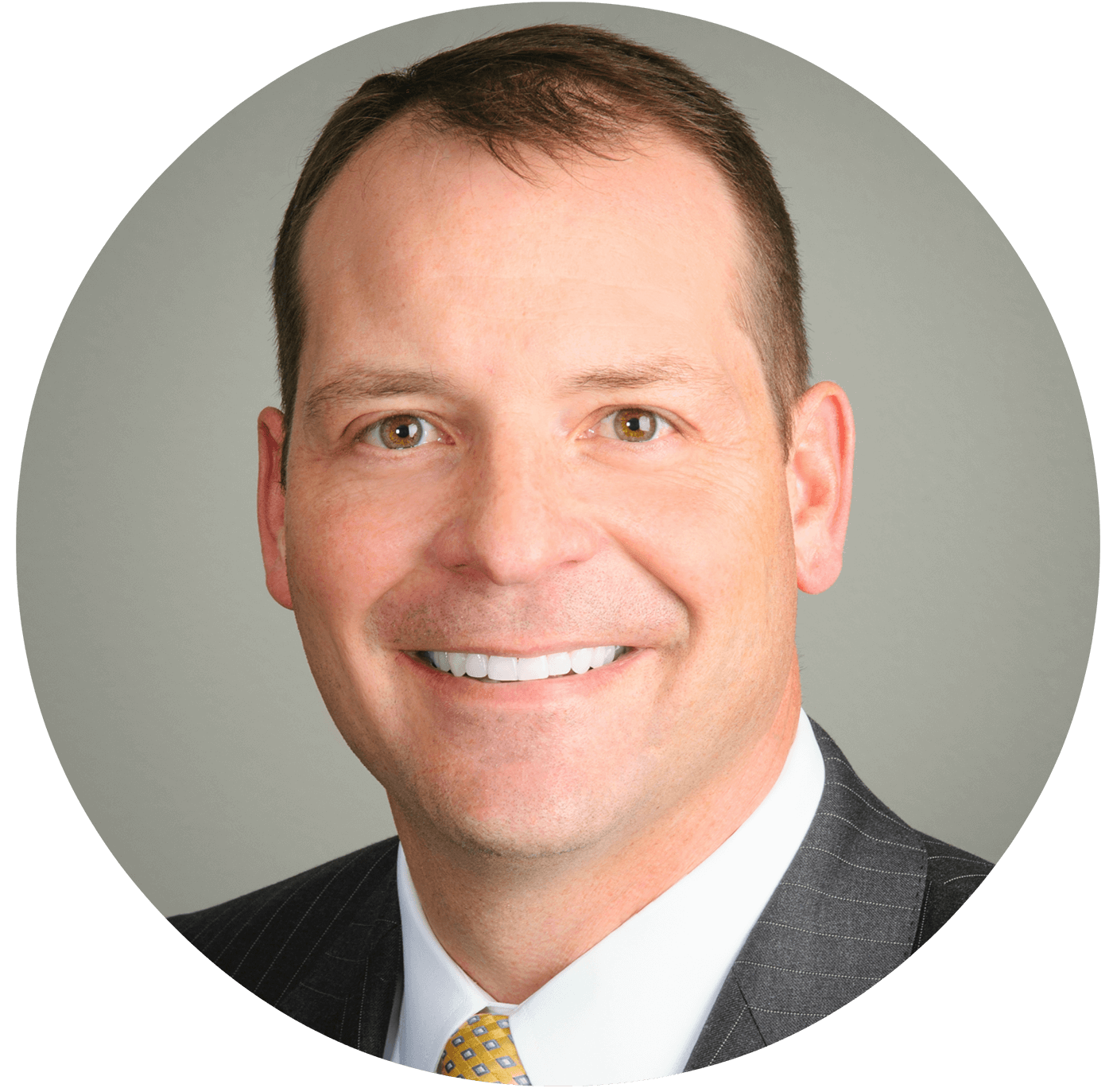 Andrew Klocke
Klocke is a Managing Director in the Kansas City office of Prairie Capital Management LLC, an investment advisory firm that consults to high-net-worth nonprofit organizations, foundations, endowments, trusts, pensions, and individuals. Klocke manages client relationships, investment manager due diligence, and serves on the firm's Investment Committee. Klocke is an alumnus of the Kansas City Tomorrow leadership program. He received a Bachelor of Science in Finance and MBA from Kansas State University. He previously served on the REACH Community Advisory Committee. Klocke is an incumbent REACH Board member and lives in Johnson County.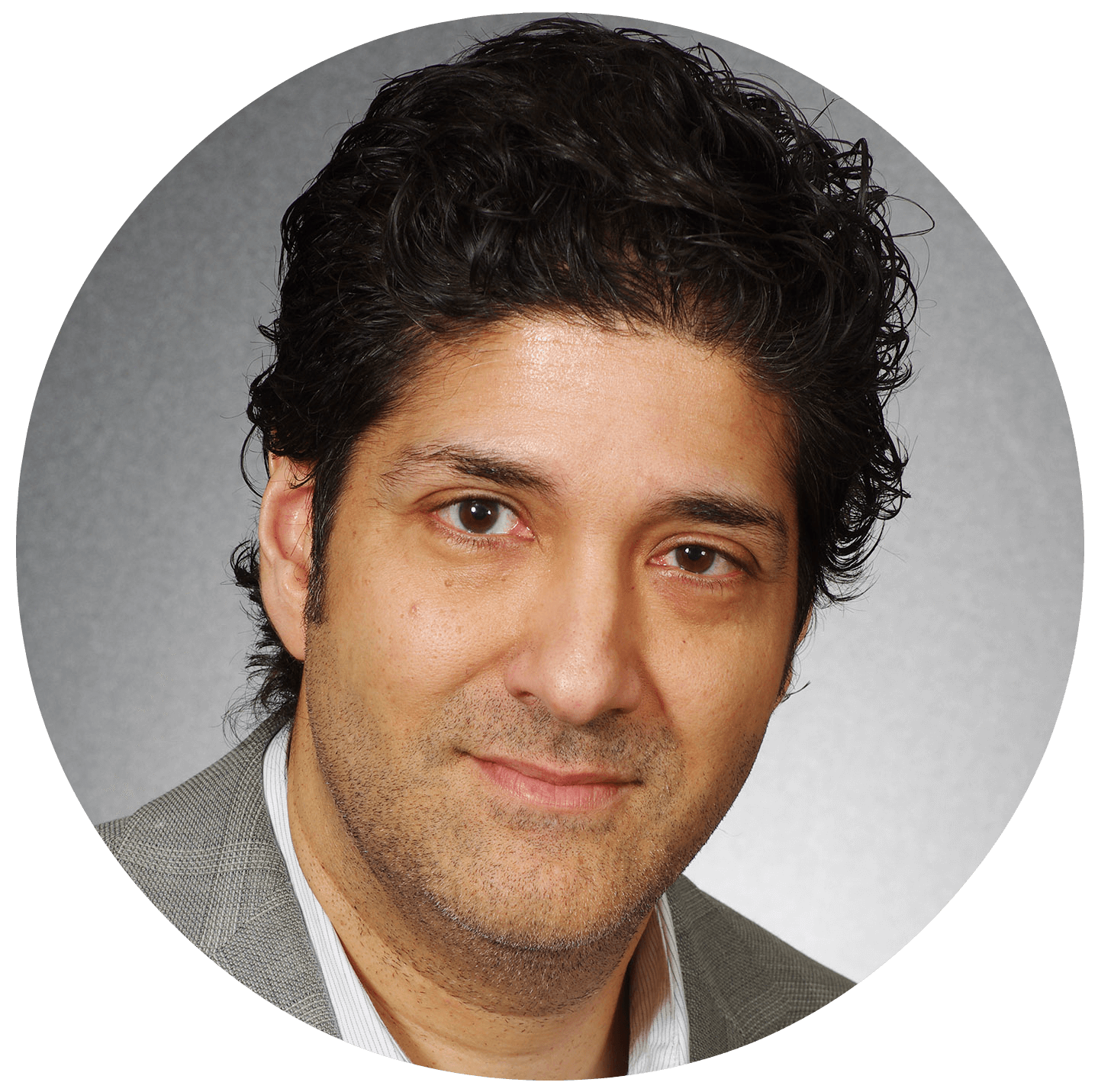 Joe Reuben
Reuben, M.D., is an emergency room physician and Medical Director of the Emergency Department at Shawnee Mission Health Center. Reuben joined the hospital system in 2000 and has since served as Chief of Staff/President-Elect and Treasurer of the SMH medical staff, the board of trustees and the Medical Executive Committee. His work in emergency medicine has focused on quality improvement and patient experience. Reuben earned his medical degree from the University of Missouri-Columbia. He has participated in the physician mentor and shadowing program for KU Medical Center. Reuben lives in Johnson County.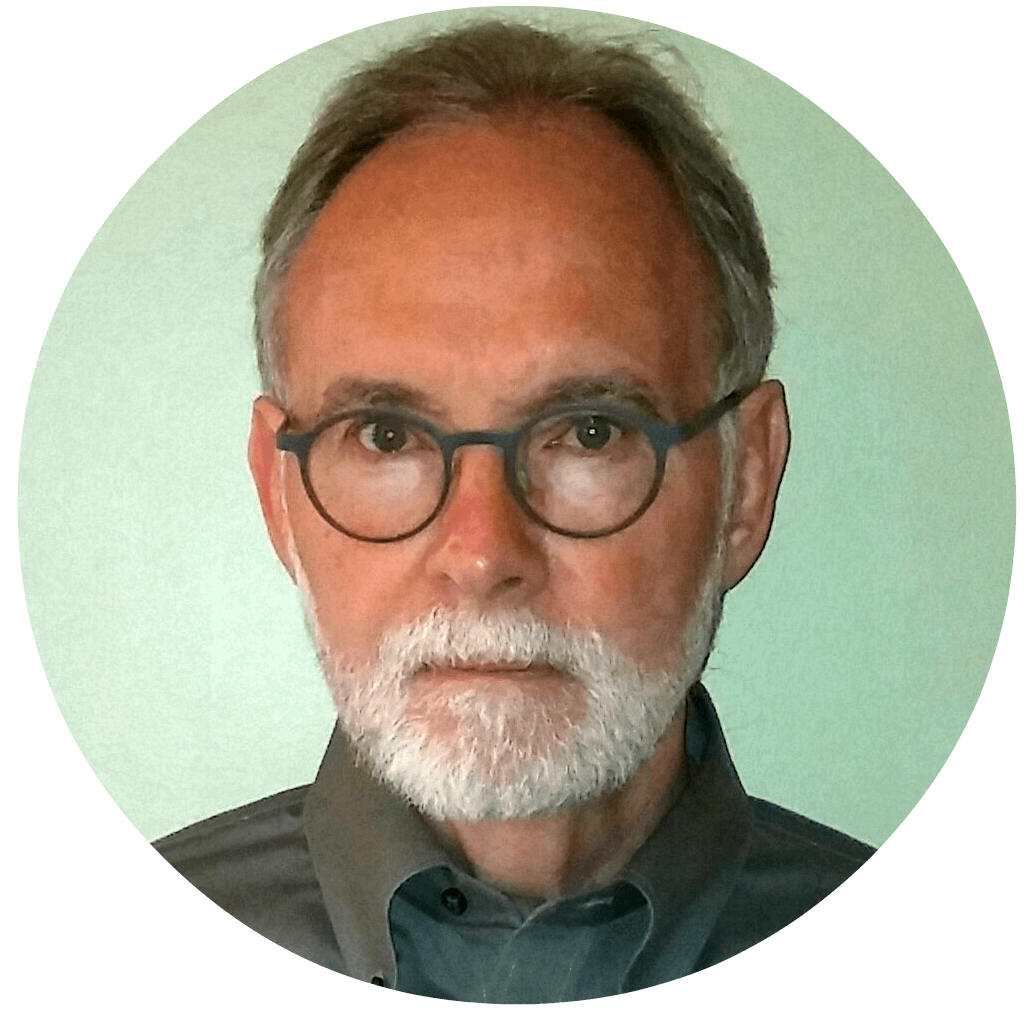 James Sanders
Sanders, M.D., spent his career in public service in urban and rural health settings. He retired in 2014 as Chief of Staff of the Kansas City VA Medical Center, which includes a network of specialty services and outpatient clinics in Overland Park, Paola, Excelsior Springs, Belton and Warrensburg. He previously was Chief Medical Officer for the VA Heartland Network, an integrated services network with nine medical centers, tertiary care referral centers, nursing homes and 45 outpatient clinics. He served in leadership roles for the Veterans Health Administration regionally and nationally. Sanders earned Juris doctorate and medical degrees from the University of Kansas. Sanders lives in Johnson County.
The REACH Foundation Board annually seeks candidates who represent the geographic and demographic diversity of the foundation's six-county service area. Additionally, the Board looks for broad experience in management and governance, finance, policy, health care and volunteer service. The next application cycle will begin in fall 2017. Eligibility and application information is available on the Board of Directors section of the web site.
---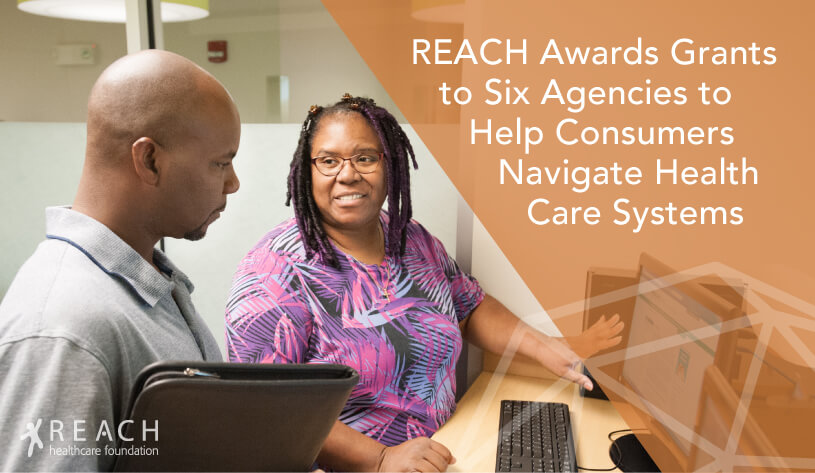 This month, the REACH Foundation awarded grants totaling $213,102 to six organizations to implement strategies that use care coordinators, navigators, community health workers and engagement specialists to close the information and resource gap between consumers and health systems.
The Health Care Coordination and Navigation Grants align with the foundation's strategic plan focus on eliminating barriers to health access and care within the outcome area – Strong Safety Net. The 2017 grants are aimed at addressing the health care needs of homeless individuals, undocumented and documented immigrants, migrant workers, refugees and youth transitioning out of foster care – population groups that experience greater health disparities due to economic situation, language and culture, housing insecurity and other factors.
The Health Care Coordination and Navigation grants represent a partnership with organizations that have demonstrated success in working with these population groups and in implementing peer support models that improve access to health care services.
"The resources and assistance provided by these agencies are often a lifeline for their clients," said William Moore, Ph.D., Vice President of Program and Evaluation. "Without these types of supports, many of these individuals would not seek or receive care – it's too complex, expensive, and linguistically and culturally difficult to navigate. The organizations selected for funding have been effective at removing barriers to health care."
The 2017 grantees include:
El Centro, Inc.

$40,000

Working primarily with Spanish-speaking, new immigrant and low-income individuals, provide health navigation services to individuals and families in Johnson and Wyandotte counties, KS, to help them enroll in coverage and understand their benefits plans, make health appointments, secure specialty care and navigate payment requirements. Navigators also serve as advocates for fair treatment and timely primary and specialty health care services. In 2016, El Centro provided assistance to more than 1,100 clients.
Health Care Coalition of Lafayette County obo Migrant Farmworkers Assistance Fund

$30,093

Working in partnership with the Migrant Farmworkers Assistance Fund, provide medical case management for migrant and year-round farmworker families in Lafayette County, MO. The Migrant Farmworkers Assistance Fund annually assists 200-350 individuals and family groups with health care coordination, transportation, interpretation, appointment scheduling and follow-ups and patient advocacy designed to address multiple barriers to care for the migrant workers. The project has served these roles for 33 years, focusing specifically on the needs of rural, seasonal migrant workers.
Jewish Vocational Services (JVS)

$37,632

As the metro area's largest refugee resettlement organization, JVS provides social services to hundreds of refugees and immigrants each year, including health education, health care navigation, patient advocacy, interpretation and community education. The JVS Healthcare Coordinator project puts in place intensive case management aimed at decreasing anxiety and alienation along with strengthening clients' capacity to secure required health screenings and essential services for themselves and their families. The project will serve 150 refugee individuals and families, addressing medical, mental health and oral health needs, providing enrollment assistance, and teaching clients how to access care.
Kansas City University of Medicine and Biosciences (KCU)

$35,347

KCU's Score 1 for Health program provides care coordination and health care navigation using registered nurses to engage with families on their children's health screening and service needs. For this project, KCU will expand the work of a bilingual dental community health worker to provide health care navigation services and information to Latino families on oral health as well as primary care and vision services. The project will build on a pilot project in a Kansas City, MO, elementary school to assist with scheduling dental appointments and promoting preventive oral health care. The project also provides wrap-around support through referrals to school nurses, social workers and safety net health care clinics.
reStart, Inc.

$40,000

reStart has used care coordination services for homeless persons since 2005. In 2015, the organization formally structured the services to focus on chronically homeless single adults who often are high utilizers of emergency services. The care coordinator works to build trust and rapport with clients who exhibit multiple and complex health, mental health and chronic conditions in order better address their particular needs. Services include assistance with benefit applications, advocacy and legal referrals for benefits denials, assistance with scheduling appointments, transportation and chronic disease education.
Synergy Services, Inc.

$30,030

Synergy Services opened an onsite medical, mental health and dental clinic in 2010 to overcome barriers that prevented homeless and runaway youth from receiving health services. This population often suffers from physical and mental health issues resulting from poverty, neglect and other conditions related to their homelessness. Synergy's integration specialist works with the youth to help with appointments and follow-up, Medicaid applications and development of treatment plans. The integration specialist works closely with Synergy case managers, therapists and other staff on coordinated assessments and care plans.
Total Awards: $213,102
For more information on the Strong Safety Net outcome area and strategies, review the Funding Priorities section of the web site.
---