You are viewing news in the 'Blog' Category
---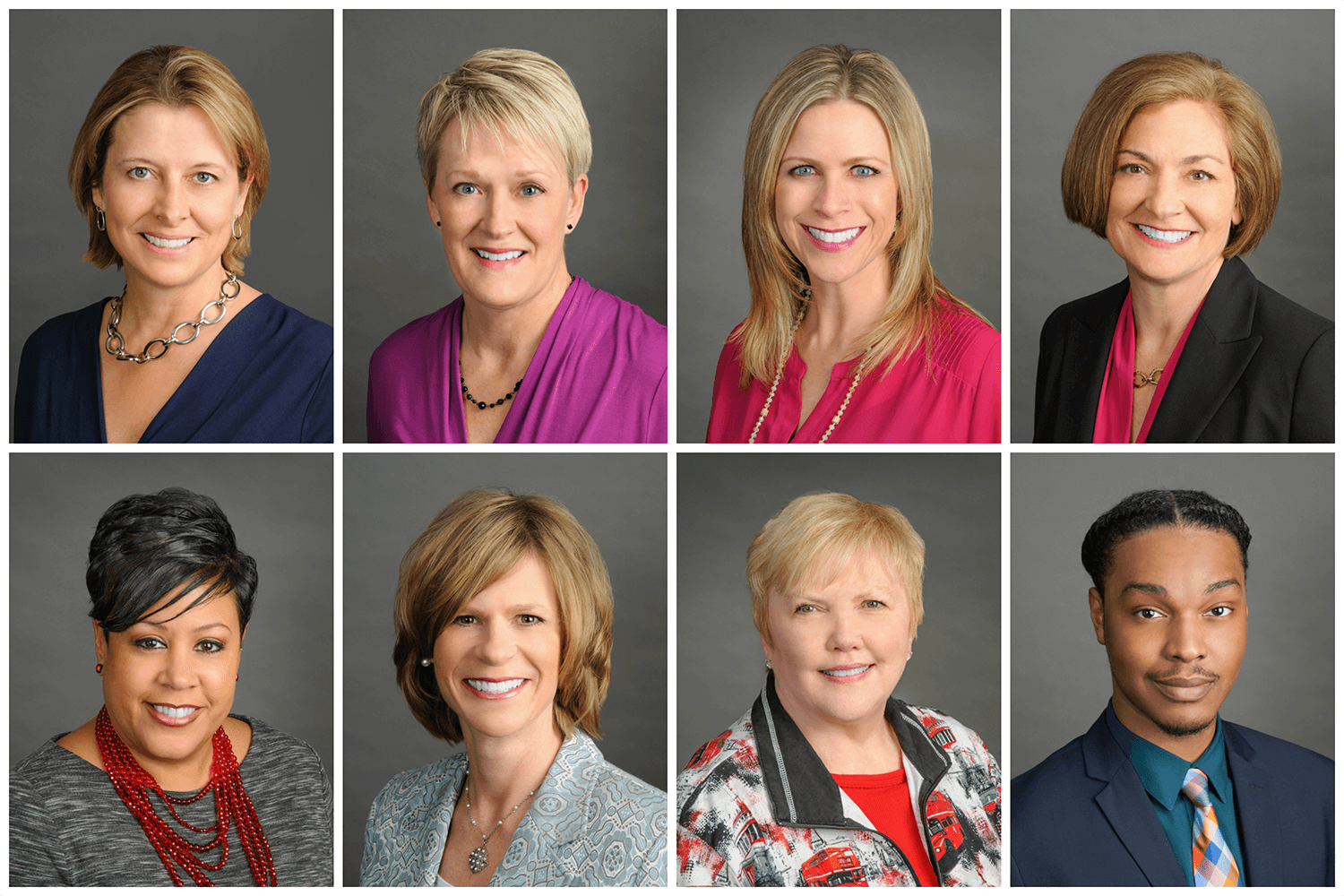 So far in 2017, the foundation has seen positive investment returns every single month of this year. I can't wait to see how we eventually invest these funds into the community.
Jo Yun, Vice President of Finance & Operations/CFO
Since we implemented the Employee Matching Gifts program in 2007, REACH has matched nearly $72,000 in contributions and donations to United Way and other community organizations! We may be small, but we're mighty! It's a pleasure to work amongst such givers.
Becky Benak, Director of Grants & Operations
I enjoyed working with our advocacy partners, who are always ready with solid research and advice on health policies that are important to REACH. Thanks, too, to my communications peers from the other health foundations who are generous with their ideas and resources.
Pattie Mansur, Director of Communications & Health Policy
This summer, we were so excited to see the strong community support for the Immigrant Health Summer Series. We look forward to further deepening our learning, partnerships and investments in immigrant/refugee communities in the coming year.
Carla Gibson, Senior Program Officer
The REACH team took health and wellness to a grand level – 100% participation in the flu shot challenge. Nicely done, staff!
Dawn Downes, Senior Program Officer
Wrapping up another year of work supporting the REACH Board and Community Advisory Committee. We're fortunate to have such dedicated volunteers.
Georgeann Hemry, Executive Assistant
I'm so proud of our foundation's commitment to giving back to the community, evidenced not only in our grant making, but also in staff contributions to our internal United Way campaign, for which I had the honor of serving as coordinator. This year we increased our giving by almost $3,000, resulting in a $24,768 donation!
Mathew Davis, Office & Communications Assistant
Click here to read President & CEO Brenda Sharpe's 2017 Reflection
---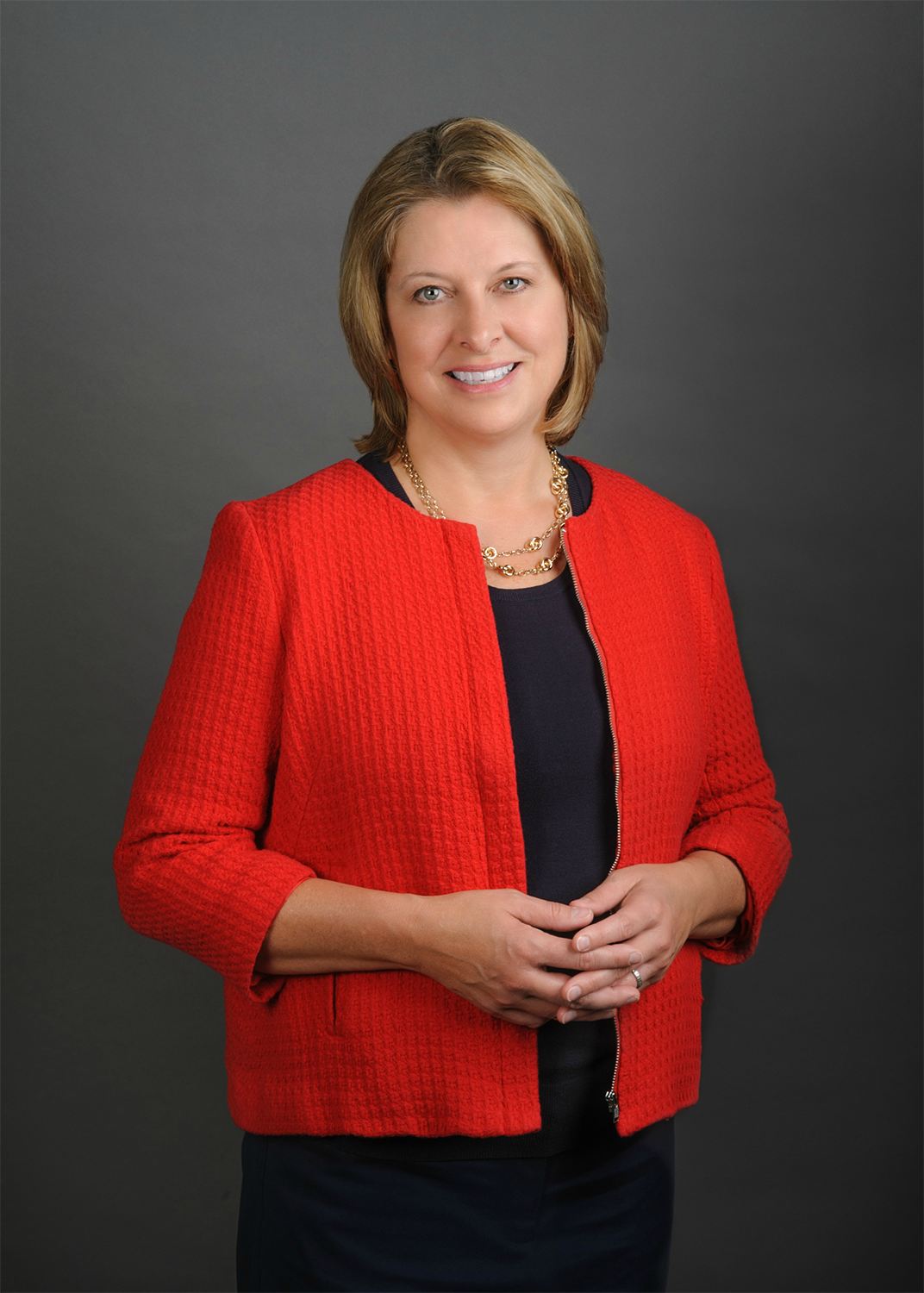 At the end of the year, as the REACH team works to tie up loose ends on grants awarded, projects being planned for the coming year, and preparing for the holidays, I always marvel at how committed and focused individuals are capable of tackling complex problems knowing that solutions are, in fact, within reach. I also reflect on how much can be accomplished when we work together.
Particularly satisfying for me this year was our Board's decision to go deeper and be more public regarding our commitment to improving immigrant and refugee health.
Drawing on the ideas and issues raised by metro-area leaders who work with immigrants and refugees, the REACH Foundation sponsored an Immigrant Health Summer Series – three programs that looked at the legal, social and health and mental health concerns of immigrant and refugee members of our community. Frankly, we weren't sure what kind of response we would get to the series. As it turned out, the sessions drew more than 250 participants and helped us solidify relationships with organizations that have deep ties to immigrant and refugee populations in the community. These partnerships have provided our team with fresh ideas on ways to invest more strategically in this area in 2018.
In the early spring we both despaired and celebrated a near-win on Medicaid expansion in Kansas. Thanks to the determined outreach and energy of a large group of Kansas advocates led by the Alliance for a Healthy Kansas, the Legislature passed HB 2044—The Bridge to a Healthy Kansas by a healthy majority. Governor Brownback vetoed the bill in early April and the House upheld the veto in an override action by just three votes. While we did not get the desired result, we did see a dramatic change in public opinion in all parts of the state about the health and economic benefits of Medicaid expansion – an important shift that we hope to build upon in 2018.
In Missouri, we worked alongside our business partners at the Greater Kansas City Chamber of Commerce to make Kansas City a trauma-informed community through Resilient KC. Together, we brought a new partner from St. Louis to engage with regional leaders in mental health and to establish Alive and Well KC in an effort to address the devastating impacts of Adverse Childhood Experiences (ACEs) at the individual and community level.
In partnership with several of our Missouri and Kansas funding partners, we commissioned the Research Triangle Institute to conduct what we believe to be the largest Kansas and Missouri consumer experience survey on health care coverage and access in history. This survey will give us a better understanding of the unique challenges people face in accessing affordable health coverage and quality primary and specialty care, mental health services and oral health care. The insights we'll gain will help us better focus our community investments and communicate more effectively with policymakers.
A special thanks to the Board of Directors, Community Advisory Council and staff of the foundation. They make the work look easy when it is most complex, and are 100 percent behind our mission.  To the many community partners serving those who need it most—THANK YOU!  You inspire us and strengthen our resolve.
Brenda R. Sharpe
President and CEO
Click here to read REACH Staff Reflections
---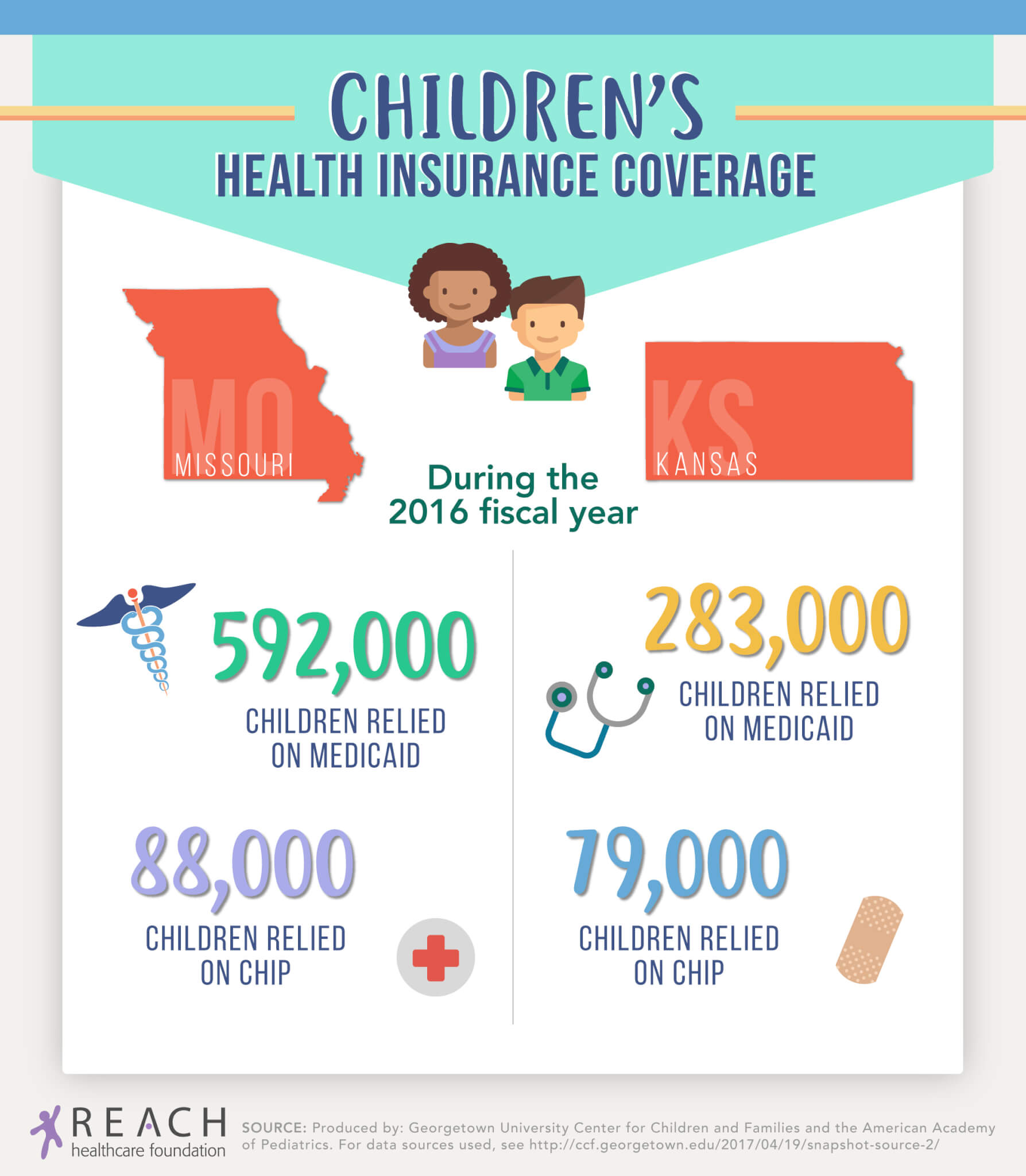 Health providers and advocates have been maintaining a steady public call to Congress to extend federal funding for the Children's Health Insurance Program (CHIP), which is set to end on September 30, 2017, unless Congress acts to renew financial support – ideally for another five years.
CHIP is a federally funded and state-administered block grant, and an important counterpart to Medicaid. Medicaid and CHIP cover approximately 39 percent of the nation's children. Medicaid covers more than 37 million and CHIP serves 8.9 million. These programs have produced significant improvement in children's coverage status – reducing the children's uninsured rate to a record low of 5 percent. Together, they provide a broad set of benefits, including regular medical, vision, hearing and dental screenings as well as physical, occupational, and speech and language therapies for children with special needs.
Failure to renew would place children's coverage at risk and add to financial pressure on states. Some states operate CHIP within their Medicaid programs; others, including Kansas, maintain separate programs. Children in separate CHIP programs could shift to their parents' employer-sponsored plans or marketplace plans, but others would become uninsured. The result could be a reversal of coverage gains achieved over the years, potentially causing 1.1 million children to become uninsured.
This situation would likely force states to alter their programs to contain costs. Nearly all 50 states, including Kansas and Missouri, planned for continued federal funding in their 2018 fiscal year budgets. While states can continue to spend their unused funds until they run out, at least 10 expect to expend their funding in 2017; 32 states (including Kansas and Missouri) project they will run out of funding by the end of March 2018.
Given the proven health benefits of CHIP, a renewal decision should not wait until September 30. As Congress deliberates on a variety of health proposals, it is time to place this smart investment at the top of their list. LEARN MORE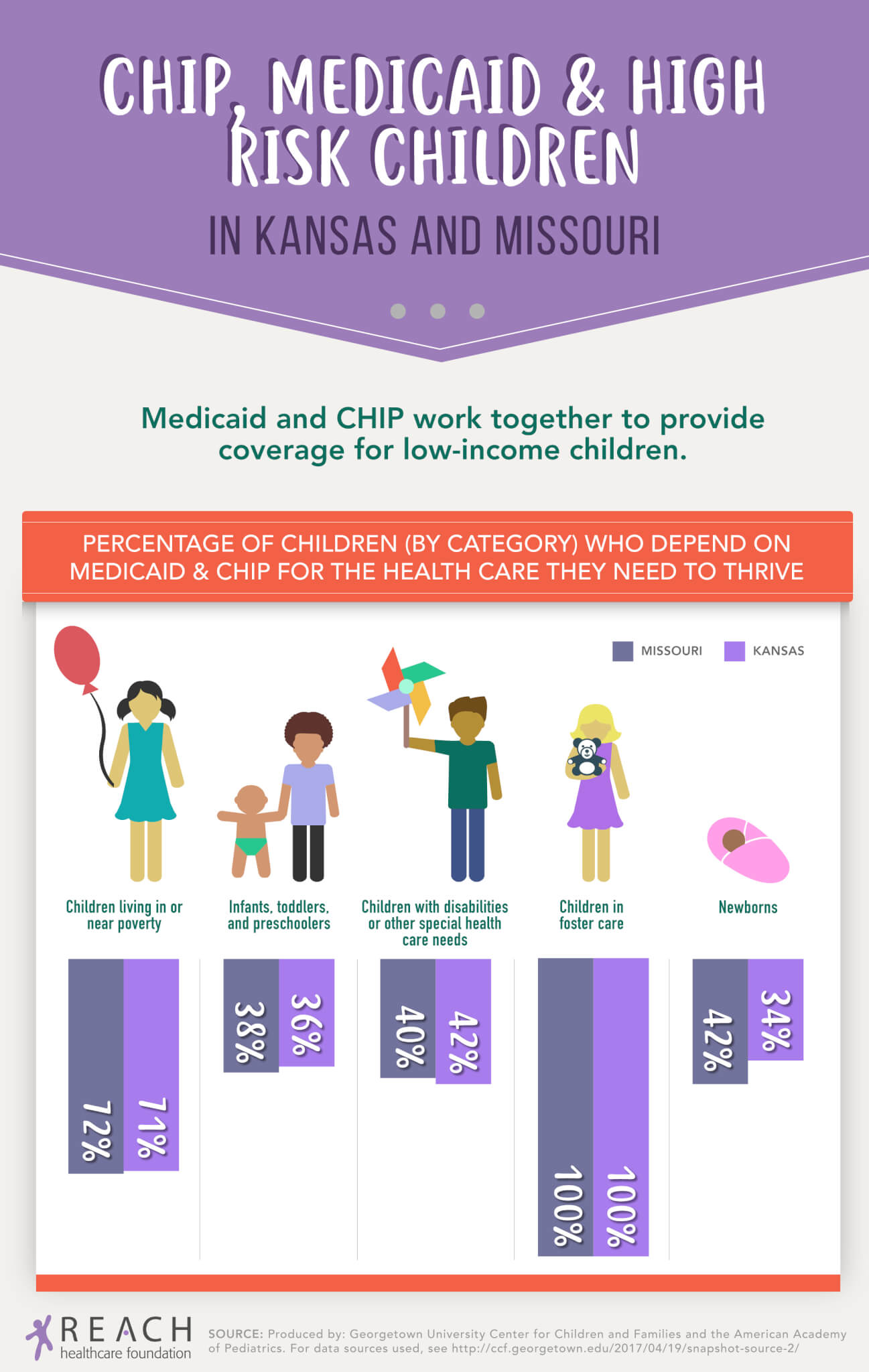 ---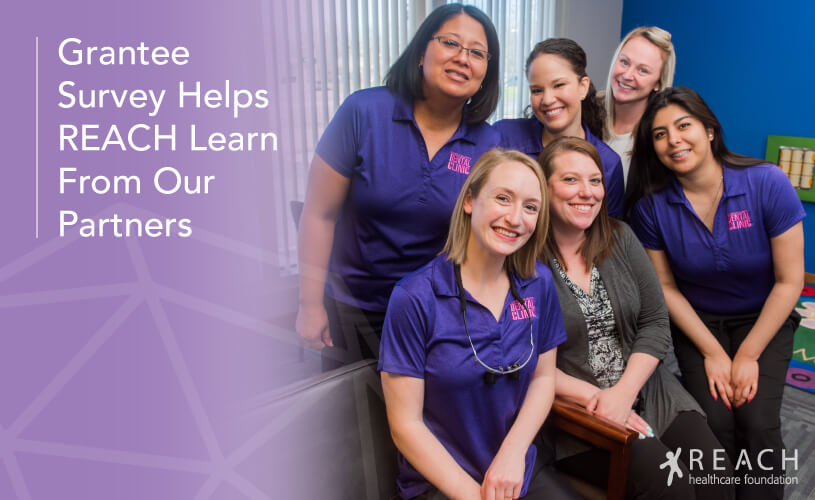 Transparency in the REACH Foundation's grant making and operations has always been held as a core tenant of our work by the foundation's Board of Directors and staff.
As part of our grant relationship, REACH staff encourages our nonprofit partners to be transparent with us about major changes and challenges in their organizations so that we can learn from their experiences and provide guidance or additional resources, as needed. This kind of sharing can only work if we are open, too, and seek out honest feedback from partners and peers so that we can do better in communicating the foundation's goals and priorities, building relationships and promoting shared learning.
One basic but valuable method for understanding how we are doing as an organization is to survey current and former grantees and other partners. In 2016, we contracted with the Center for Effective Philanthropy (CEP), a national organization that helps foundations understand and strengthen their performance, to implement a survey to measure our grantees' understanding of the foundation's strategic priorities, assess the quality of staff relationships with grantees, and describe the impact the foundation has on grantee communities and their field.
The CEP survey was sent to grantees from 2015 and 2016 – a list that included all core operating partners, and program, capacity-building and other discretionary grant recipients. The survey measured grantee perceptions in six areas – foundation impact, relationships, grant making processes, transparency, knowledge and understanding, and contributions to nonprofit sustainability. CEP received responses from 58 grantees, for a 68 percent response rate. Their responses were compiled into a report that provided important information and provided us with insights into areas for improvement.
Some of our take-aways included:
The adoption of a new strategic plan in 2015 – with a new theory of change and associated outcomes and strategies – created some uncertainty among different groups of grantees. For example, program grant recipients were less likely to have a positive view of the foundation, which may have been related to the foundation's decision to end grants for programs in 2016. Organizations that received funding through REACH's outcome investments tied to our new five-year strategic plan and/or our expansion of core operating grants perceived the foundation in more positive terms than program grantees. It raised the question for us:  Were their higher ratings due to continuation of funding or to the quality of the relationship?
The CEP survey highlighted differences in staff relationships with various grantees. For example, core partners – those that receive general operating support – have typically had longer relationships with the foundation's program staff. In contrast, some discretionary grant recipients receive one-time or only occasional support. The CEP survey results showed that these organizations perceived the foundation less positively than grantees with which we have worked over time.
The open-ended responses to questions about how grantees perceived REACH were generally positive. For example, when asked how grantees would describe interactions with the foundation, 90 percent rated the foundation as good, very good or excellent in responsiveness to grantee and community needs; 10 percent perceived REACH to be inflexible, challenging or difficult to work with. Nearly 95 percent of grantees noted that the foundation has had a positive influence on access to care in their community.
Although one key area of investment for REACH is public policy and advocacy, 25 percent of the survey respondents indicated they were unable to judge the impact of REACH's investments on public policy within their fields. Given the foundation's increased investments and activities in health policy and advocacy, this response suggests we need to be more proactive in sharing the foundation's policy priorities and discussing the progress or impact our investments have had on policy in Kansas and Missouri.
Other findings included:
91 percent of respondents said that the foundation's responsiveness and was "good, very good or excellent," and that our communications with them and the community were consistent. More than 80 percent responded that our transparency is "good, very good or excellent."
Approximately three-quarters of respondents indicated that REACH has helped advance knowledge in their fields, and has had a positive impact on their organizations and their sustainability.
Nearly 90 percent believed that REACH has a good, very good or excellent understanding of their field and of the communities in our service area.
Three-quarters believe REACH has had a positive impact on their organization, report that the foundation has at least a good understanding of their goals and strategies, feel they have been treated fairly in the grant selection process, and agreed that the selection process is transparent. A similar percent agreed that once funded, they feel comfortable approaching REACH staff when or if a problem arises during the grant term.
Finally, more than 80 percent consider REACH's work in health equity important and have seen a positive influence of our work on access to care.
These results offered a gratifying confirmation of the contribution the REACH Foundation strives to make in our community, but we recognize there are areas in which we can improve. The CEP survey is one tool we can use to identify ways to strengthen our work. Some of these include:
Approximately 30 percent of respondents indicated they would like REACH to have a better understanding of their organizational challenges; about 20 percent would encourage the foundation to better understand the contextual factors affecting their organization.
32 percent believe REACH should be more open to grantees' ideas regarding our funding strategies – suggesting that foundation staff could do better at listening to grantees.
37 percent believe REACH could be more transparent about what has not worked in our previous investments – in other words, to share learnings from our mistakes as well as successes.
Approximately half of our grantees would like help understanding how the foundation evaluates its work and investments.
The survey findings were shared with the REACH Board and its Program and Policy Committee, and staff has set aside time within team meetings to reflect on our procedures, communications and relationships. We have made adjustments in how we communicate as a start:
In learning that grantees would like the foundation to have a better understanding of their organizational challenges, REACH program staff have begun additional check-in phone calls this year with core partners to learn more about the internal and external issues they are confronting.
To improve understanding of the foundation's work in public policy, REACH program officers are discussing these priorities more widely with current and potential partners. In addition, we are using our established communications tools – web site and social media feeds – to reinforce our policy interests and highlight the activities of grantees.
To clarify the foundation's approach to evaluation, program staff is sharing the foundation's theory of change and highlighting selected performance targets and other metrics that are part of our outcomes investment approach. During this year, we expect to expand information on the web site to more fully describe how REACH evaluates its community investments.
Since our start in 2003, the Board of Directors and staff have embraced a belief that the foundation's ability to achieve its vision and mission is tied to the efforts, effectiveness and ingenuity of strong nonprofit partners. As we pursue our own continuous improvement journey, we welcome your suggestions for how we can cultivate transparency, learning and dialogue.
We invite you to reach out to any member of the REACH team with your questions and ideas.
Brenda R. Sharpe, President & CEO
---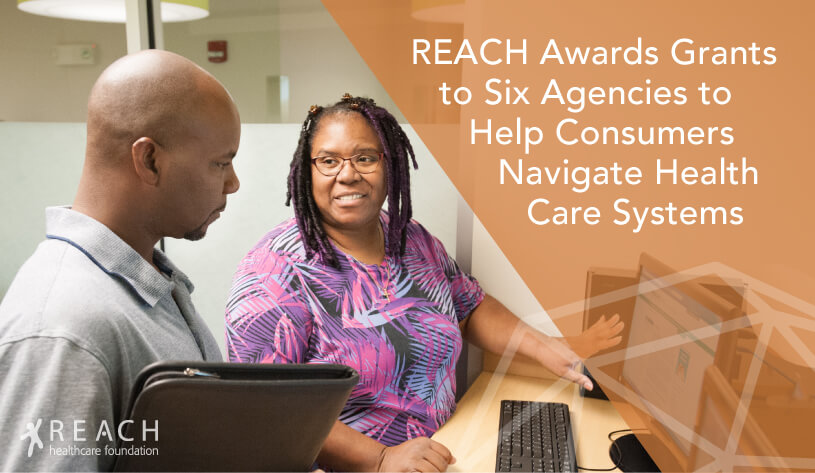 This month, the REACH Foundation awarded grants totaling $213,102 to six organizations to implement strategies that use care coordinators, navigators, community health workers and engagement specialists to close the information and resource gap between consumers and health systems.
The Health Care Coordination and Navigation Grants align with the foundation's strategic plan focus on eliminating barriers to health access and care within the outcome area – Strong Safety Net. The 2017 grants are aimed at addressing the health care needs of homeless individuals, undocumented and documented immigrants, migrant workers, refugees and youth transitioning out of foster care – population groups that experience greater health disparities due to economic situation, language and culture, housing insecurity and other factors.
The Health Care Coordination and Navigation grants represent a partnership with organizations that have demonstrated success in working with these population groups and in implementing peer support models that improve access to health care services.
"The resources and assistance provided by these agencies are often a lifeline for their clients," said William Moore, Ph.D., Vice President of Program and Evaluation. "Without these types of supports, many of these individuals would not seek or receive care – it's too complex, expensive, and linguistically and culturally difficult to navigate. The organizations selected for funding have been effective at removing barriers to health care."
The 2017 grantees include:
El Centro, Inc.

$40,000

Working primarily with Spanish-speaking, new immigrant and low-income individuals, provide health navigation services to individuals and families in Johnson and Wyandotte counties, KS, to help them enroll in coverage and understand their benefits plans, make health appointments, secure specialty care and navigate payment requirements. Navigators also serve as advocates for fair treatment and timely primary and specialty health care services. In 2016, El Centro provided assistance to more than 1,100 clients.
Health Care Coalition of Lafayette County obo Migrant Farmworkers Assistance Fund

$30,093

Working in partnership with the Migrant Farmworkers Assistance Fund, provide medical case management for migrant and year-round farmworker families in Lafayette County, MO. The Migrant Farmworkers Assistance Fund annually assists 200-350 individuals and family groups with health care coordination, transportation, interpretation, appointment scheduling and follow-ups and patient advocacy designed to address multiple barriers to care for the migrant workers. The project has served these roles for 33 years, focusing specifically on the needs of rural, seasonal migrant workers.
Jewish Vocational Services (JVS)

$37,632

As the metro area's largest refugee resettlement organization, JVS provides social services to hundreds of refugees and immigrants each year, including health education, health care navigation, patient advocacy, interpretation and community education. The JVS Healthcare Coordinator project puts in place intensive case management aimed at decreasing anxiety and alienation along with strengthening clients' capacity to secure required health screenings and essential services for themselves and their families. The project will serve 150 refugee individuals and families, addressing medical, mental health and oral health needs, providing enrollment assistance, and teaching clients how to access care.
Kansas City University of Medicine and Biosciences (KCU)

$35,347

KCU's Score 1 for Health program provides care coordination and health care navigation using registered nurses to engage with families on their children's health screening and service needs. For this project, KCU will expand the work of a bilingual dental community health worker to provide health care navigation services and information to Latino families on oral health as well as primary care and vision services. The project will build on a pilot project in a Kansas City, MO, elementary school to assist with scheduling dental appointments and promoting preventive oral health care. The project also provides wrap-around support through referrals to school nurses, social workers and safety net health care clinics.
reStart, Inc.

$40,000

reStart has used care coordination services for homeless persons since 2005. In 2015, the organization formally structured the services to focus on chronically homeless single adults who often are high utilizers of emergency services. The care coordinator works to build trust and rapport with clients who exhibit multiple and complex health, mental health and chronic conditions in order better address their particular needs. Services include assistance with benefit applications, advocacy and legal referrals for benefits denials, assistance with scheduling appointments, transportation and chronic disease education.
Synergy Services, Inc.

$30,030

Synergy Services opened an onsite medical, mental health and dental clinic in 2010 to overcome barriers that prevented homeless and runaway youth from receiving health services. This population often suffers from physical and mental health issues resulting from poverty, neglect and other conditions related to their homelessness. Synergy's integration specialist works with the youth to help with appointments and follow-up, Medicaid applications and development of treatment plans. The integration specialist works closely with Synergy case managers, therapists and other staff on coordinated assessments and care plans.
Total Awards: $213,102
For more information on the Strong Safety Net outcome area and strategies, review the Funding Priorities section of the web site.
---
Legislators have the opportunity to consider a bill this session that would license dental therapists in Kansas. Dental therapists are specially trained mid-level dental providers who would work as part of a dental team to provide routine and preventive care. There is strong interest in dental therapy among health, dental hygiene, education, safety net health clinics, aging services and other groups that want to find a safe and cost-effective solution to the state's oral health shortage problems. In states that have licensed dental therapists, they work with general supervision of a dentist in dental offices and in community settings such as schools, Head Start centers, nursing homes and programs for individuals with disabilities, allowing the dentist to expand his or her practice and treat patients who otherwise face barriers to care.
This model has been gaining traction over the past several years, particularly in places where there are large dental shortage areas. Alaska is one of those places. Minnesota is another. Maine and Vermont also have authorized dental therapists to practice. On the surface, Kansas may not look like Alaska or Maine, but in every part of our state, there are too many Kansans who can't access dental care. Nearly 83 percent of Kansas counties don't have enough dental providers to meet people's needs. In metropolitan areas that attract more dentists, many limit the number of Medicaid patients they serve.
Increasing access to oral health care for low-income children and medically underserved adults has been a priority of REACH since our establishment 13 years ago. The foundation has invested millions of dollars in programs to improve oral health, including funding school-based oral health screenings, fluoride varnish treatments, oral health prevention programs for pre-K students, a mobile dental unit, emergency dental funds and other initiatives. Still, thousands of low-income and uninsured Kansans go without care because there are not enough dentists to meet demand.
In 2015, the Commission on Dental Accreditation (CODA) adopted accreditation standards for dental therapy education programs.
The REACH Foundation began looking at the dental therapy model six years ago. Since that time, dental therapy has been studied and adopted in several states. In 2015, the Commission on Dental Accreditation (CODA) adopted accreditation standards for dental therapy education programs. CODA is recognized by the U.S. Department of Education as the sole agency to accredit dental and dental-related education programs at the post-secondary level – including the training of dentists. The CODA standards for dental therapy lay out a framework for education and training programs, including for Kansas.
Dental therapists are highly trained mid-level oral health providers. In Kansas, dental therapists would be trained in programs that meet CODA standards and be required to pass the same clinical examinations as dentists within their more limited scope of practice. Dental therapists would always work at the discretion of a dentist and with general supervision. Dental therapists would make it more cost-effective for private dental practices to serve those with Medicaid coverage and enable safety net clinics that struggle to recruit enough dentists to serve more of their patients.
In order to understand how this mid-level provider could help address our state's oral health care shortages, I traveled to Minnesota, which has had dental therapy in place for five years, to visit practices that are employing dental therapists in Minneapolis and in rural Minnesota. A dentist who was leading one of those practices was employing four dental therapists and found those mid-level providers to be essential in serving vulnerable populations. In Minnesota, dental hygienists who pursued the additional training said dental therapy offered them a way to grow as professionals and help meet health needs in their communities. The dentists I spoke with said that these individuals had enhanced their practice, allowing their team to operate more efficiently.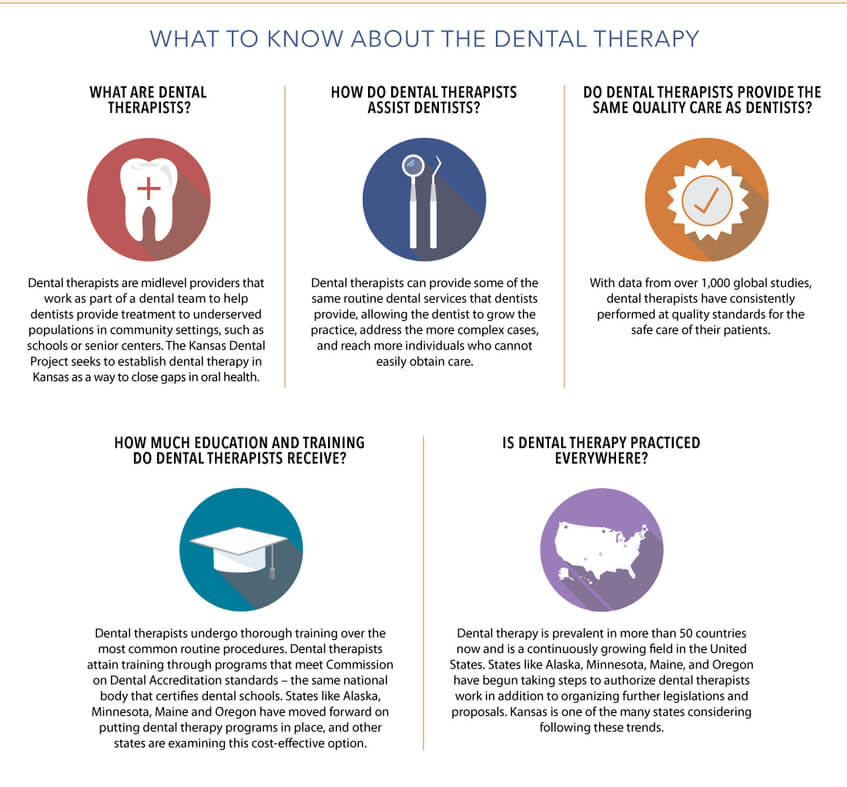 REACH has helped to bring a couple of these dentists to Kansas to talk with dentists in our state. While they acknowledged the early skepticism among some of their professional colleagues, they talked about the practice advantages, the safety and how dental therapists complement their work. They reported that use of dental therapists had helped reduce wait times for appointments and increased access for patients on public assistance and for those with special needs.
This week, I went to the Capitol in Topeka to listen to testimony provided by dentists and representatives of safety net health clinics. They discussed the importance of the CODA education standards, the opportunity to expand their dental practices and fully utilize their dental clinics and improve access in their communities, as well as create pathways for dental hygienists interested in continuing their education and professional growth to become dental therapists. In their testimony, they were passionate advocates for strengthening Kansas' oral health care system and removing barriers to care.
Through the foundation's involvement with the Kansas Dental Project, our work with Kansas safety net clinics and our exploration of these programs around the country, we have come to see that dental therapy offers Kansas a safe and economical solution to this health access issue. Over the past couple of years, and again last week, I shared the foundation's perspective in writing and encouraged our elected leaders to give full consideration to this workforce model.
Information on dental therapy and the Kansas Dental Project is available online. And I'm pleased to share a link to the testimony provided this week. You can find the REACH Foundation's testimony here.
Brenda R. Sharpe
President and CEO, REACH Healthcare Foundation
---
Last fall, the Community Health Council of Wyandotte County pulled together health providers, program directors, faith community and neighborhood leaders and other advocates to reflect on the results of a three-year study by the Kirwan Institute for the Study of Race and Ethnicity at The Ohio State University of the environmental factors affecting health equity in the community. The HEAT report, short for Health Equity Action Transformation, examined the interplay of community and environmental conditions that are having a negative impact on the health of Wyandotte County residents.
The study utilized a tool called "opportunity mapping," a way of developing an equity profile of communities by using city, county, public health, housing, hospital data and other information to understand where opportunities – and disparities – exist, and at what levels. The Kirwan Institute, which has done mapping projects in other communities, including Kansas City, Mo., uses mapping to provide a visual picture of the relationship between marginalized populations and opportunity to help residents and advocates develop action plans for addressing the gaps.
The HEAT study includes information on infant mortality, life expectancy, access to health care providers, and housing access and affordability, and incorporates historical records that highlight zoning and real estate/neighborhood development that over years resulted in concentrations of low-income housing and residents. The study also presents an "opportunity index" that combines 19 indicators for the Kansas City metropolitan area into a composite ranking assigned by Census tract. The index includes graduation rates, college attainment, access to early childhood education, and availability of health foods, parks, housing and other indicators connected to well-being.
"The Wyandotte County Hotspotting/Mapping project presented an opportunity to help community leaders pinpoint the areas with the highest concentration of unmet medical need so as to understand where resources, information and solutions are needed," said Bill Moore, Ph.D., Vice President of Program and Evaluation at the REACH Foundation. "This study has helped to fill in the picture of where health leaders and others, including philanthropy, can grow capacity and contribute resources."
The Community Health Council of Wyandotte County has used these data tools, along with a collection of stories from people personally affected, to encourage conversations among health program and neighborhood leaders. Donna Young, project manager at the Health Council, began working with agencies and neighborhood leaders months in advance of the study's release through action teams that are focusing on the most urgent findings, such as prenatal and post-natal infant death, chronic disease and access to health services.
The action teams and projects have applied information and insights from the HEAT study to community initiatives, such as Healthy Communities Wyandotte, Tobacco Free Wyandotte, a Clean Energy Clean Air Coalition, Healthy Environment Coalition, work focused on lead exposure and asthma, and other local health endeavors. Young said the HEAT study and other Health Council work are set up to support and assist with community-driven decision-making, not drive it.
A website launched in November, WeAreWyandotte.com, features the health and opportunity maps, and video stories. The interactive online maps highlight differences in health, education and neighborhood need. Key findings include:
Thirty to forty-five percent of those living in Wyandotte County neighborhoods of greatest concern are children.
Locations with high infant mortality: The county's highest infant mortality rates are found in largely black neighborhoods – 11.6 infant deaths per 100 live births, more than double the mortality rate of infants in largely white (4.9/100 births) and Hispanic (8.2/100 births) neighborhoods.
The variation in life expectancy and the extent of the range depending on geography: Central Kansas City, KS, neighborhoods show average mortality ranges from 59 to 62 years, whereas in the western part of the city, average mortality is 71 to 82 years.
Data from the Unified Government of Wyandotte County Public Health Department (2009-2013) showed heart disease, cancer and stroke as the leading causes of death overall, but the rates varied depending on location. For example, deaths due to heart disease range from three in a year in some Census tracts to 30-plus in others.
Nearly half of the county's residential parcels, through a combination of age and low assessed value, hold the potential for lead poisoning risk due to the presence of lead-based paint. The prevalence of poorly maintained housing also potentially harbors asthma triggers such as mold and infestations of insects and vermin.
A number of partners contributed information to the project, including the University of Kansas Medical Center, Children's Mercy Hospital, the Unified Government of Wyandotte County and the University of Kansas School of Architecture, Design and Planning. Funding for the project came from the REACH Healthcare Foundation, Wyandotte Health Foundation and the Kansas Health Foundation.
To learn more, visit www.wearewyandotte.com
---
Kansas health advocates, consumers, local government and business leaders have gathered forces this legislative session to issue a strong call for expansion of KanCare, the state's Medicaid program. During the week of January 6-10, 2017, the House Health and Human Services Committee will hold hearings on three days to consider House Bill 2064, a KanCare expansion bill. For the past three years, the REACH Foundation has made closing the coverage gap its top policy priority for Kansas and Missouri.
Kansas has the opportunity to expand KanCare, the name for our state's Medicaid program. Like the 31 states that have so far expanded their programs since 2014, Kansas stands to gain a lot by expanding KanCare.
Nearly 150,000 Kansans are unable to secure health coverage because restrictive state Medicaid eligibility guidelines put them in the gap — without affordable coverage options and unable to secure subsidies to purchase insurance through the health insurance marketplace. Medicaid offers access to a comprehensive set of benefits; provides financial support for hospitals and health providers that provide care to the uninsured; and brings important federal resources to the state, drawing on Kansas' own federal tax dollars. To date 31 states have moved forward on expanding Medicaid, drawing down enhanced federal matching dollars to support their own approach. Medicaid expansion represents an investment in a healthy workforce and a vibrant economy. Read testimony submitted by REACH President and CEO Brenda Sharpe.
---
As the 115th Congress has launched its new year of work, House and Senate members have pushed forward on actions designed to repeal the Affordable Care Act with little discussion about its replacement. Over the past couple of weeks, representatives from physicians groups, hospital associations, safety net health providers, foundations and even the Mayor of Wyandotte County/Kansas City, Kansas have urged Congressional leaders to refrain from immediate action to repeal the health law without first laying out a replacement plan.
The Republican majority in Congress has stated its position that the ACA does not work and needs replacement. However, some members have expressed concerns about undermining health coverage for their constituents without having a plan ready to implement.
These political discussions are raising concerns across our two states. Although Kansas and Missouri did not expand Medicaid, thousands of residents have gained coverage as a result of the health law and consumer interest in coverage remains strong:  As of December 31, close to 96,000 Kansans had signed up for health plans through the health insurance marketplace; nearly 250,000 Missourians had done the same.
This week the REACH Foundation sent letters to members of Congress who represent people in our bi-state service area to urge them to outline a replacement plan before moving ahead with repeal and remind them that the health law has resulted in significant decreases in uninsurance throughout the two states.
Even as U.S. House and Senate leaders and our two states' representatives discuss their intentions regarding the health law, it is important that individuals from all sectors continue to push for a process that doesn't leave millions of Americans hanging regarding their coverage.
Thank you for sharing your stories and speaking up for your community members during this challenging time. We're pleased to share two examples of letters outlining our concerns.
Letter to Representative Kevin Yoder, 3rd District, Kansas
Letter to Senator Roy Blunt, Missour
---
Fall is a time when REACH Foundation staff members begin to wrap up the year's projects and think ahead to our philanthropic investments for the next year. One of the larger commitments we make each year is core operating grants to nonprofits our Board of Directors considers to be essential partners in our effort to achieve health equity through health coverage and care.
Last week, the REACH Foundation Board approved 2017 Core Partner grants – 27 grants at $50,000 for a total of $1,350,000. This set of awards represents the inclusion of 14 new partners and an additional investment of $265,000 over 2016. Grantees include advocacy organizations, direct service providers in primary care, mental health and oral health, and organizations that provide coordination of health initiatives in our service area.
Core operating grants have been central to the foundation's grant making for a decade. Core Partners are invited to apply for the general support grants based on their organizations' alignment with the foundation's theory of change and strategic priorities; the strength of their operations and program performance; and their impact on health in our service area. The funding can be used for personnel, equipment, technology and other business expenses as determined by the organization. The foundation has awarded more than $12.4 million in core operating grants since 2006.
Bill Moore, Ph.D., Vice President of Programs and Evaluation, said the organizations funded for 2017 have demonstrated "a capacity to reduce uninsurance in our service area and increase the number of consumers who receive care." The foundation has placed an additional emphasis on supporting organizations that are working intensely to address the health care needs of particularly vulnerable populations, including homeless youth and adults; foster care youth in transition; and immigrants and refugees.
Moore said the expanded list of core partners reflects the foundation's interest in supporting organizations that are making significant strides in creating access to health coverage and care. Grantees are invited to participate in a learning community that will focus on topics related to organizational effectiveness, planning and leadership growth.
Grant terms will begin in January 2017 for a 12-month period.
2017 Core Partner Awards
Cass Community Health Foundation
Communities Creating Opportunity
Community Health Center of Southeast Kansas, Inc.
Community Health Council of Wyandotte County
Comprehensive Mental Health
El Centro, Inc.
Health Care Coalition of Lafayette County
Health Partnership Clinic
Jewish Vocational Service
Johnson County Mental Health Center
Kansas Action for Children (KAC)
KAC on behalf of Kansas Center for Economic Growth
Kansas Association for the Medically Underserved
KC Care Clinic
KidsTLC, Inc.
Mattie Rhodes Center
Missouri Budget Project
Missouri Health Care for All
ReDiscover
Rodgers Health
Silver City Health Center
Southeast Kansas Mental Health Center
Synergy Services
Thrive Allen County
Tri-County Mental Health Services, Inc.
Turner House Children's Clinic
Wyandot Center for Community Behavioral Healthcare
---